Pangea temporary hotfixes here
Setting up an ergonomic workspace
5 STEPS TO A FEEL-BETTER SETUP
Most of us spend up to 8+ hours a day at our desks – and it can take a toll on our posture and sense of wellbeing. But there are some simple and easy steps you can take to make your workspace more ergonomic – and productive.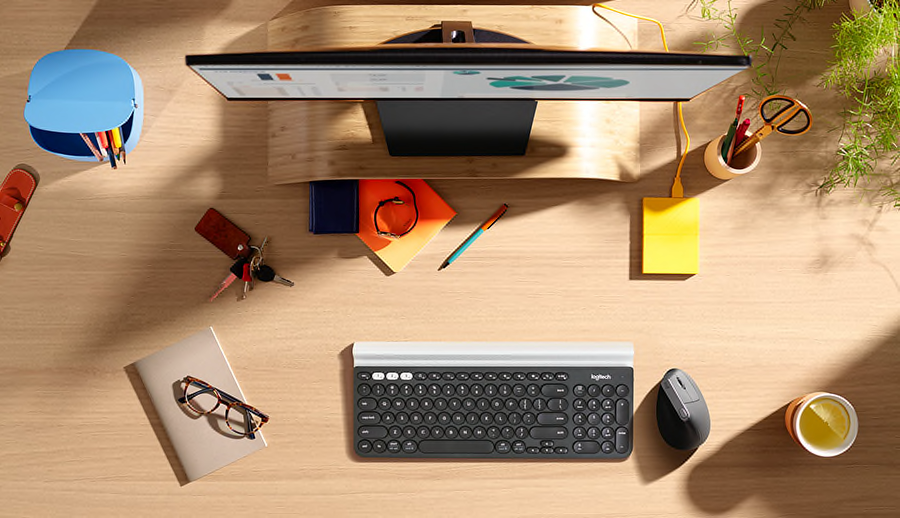 SIT UP STRAIGHT – JUST LIKE MOM ALWAYS TOLD YOU TO
Turn your attention to your chair. Adjust the height of your chair so your knees are at close to a right angle, so that your thighs are horizontal and your feet are fully rested on the floor.
RELAX YOUR SHOULDERS, ALIGN YOUR ELBOWS
Adjust the height of your desk to ensure your elbows are flush with the table. Raise or lower your desk just below your elbows height until your arms are in a straight line. Then adjust your armrest so your elbows can relax on it. Your shoulders / arms should be relaxed. Finally, make sure your back is well-supported.
KEEP YOUR SCREEN AT ARM'S LENGTH
Once your chair and desk are adjusted, turn your attention to your screen. Position your screen at arm's length (fist closed), and make sure the top of your screen is aligned with your eye level to avoid tension in your neck.
If you're working on a laptop, try using a laptop-stand or some books to elevate the top of the screen to eye level.
If you're using two screens, ensure your main screen is placed directly in front of you while the second stays right next to it to avoid excessive neck movements.
KEEP YOUR MOUSE AND KEYBOARD CLOSE
Bring your mouse and keyboard closer to your body so that you don't need to reach for them. If you use the letter keys more than the number pad, then the H key should line up with the middle of your body. If you are using a split keyboard, place your keyboard so that the split is aligned with the center of your body and the center of your screen. Ensure your wrists are straight and align them with your forearms.
USE AN ERGO SERIES MOUSE AND KEYBOARD
Using ergonomic products designed with a human-centered approach can improve posture, increase comfort, lower muscle strain – and even lead to a greater sense of wellness at work. Ergonomic mice and keyboards place your hands, wrists, and forearms in a more natural posture – which in turn can help relax your entire upper body. A more natural posture leads to a quantifiable reduction in muscle activity – meaning you can work just as productively while putting less stress on your body.