Pangea temporary hotfixes here
CIRCLE VIEW CAMERA
Apple HomeKit-enabled wired security camera with best-in-class Logitech TrueView video
CIRCLE VIEW CAMERA
Apple HomeKit-enabled wired security camera with best-in-class Logitech TrueView video
DELIVERY OPTIONS
Enter your zip/postal code to show delivery options in your area.
We could not find your current location.
Shipping times are estimated
Secure your home a better way with the Circle View HomeKit-enabled home security camera. Designed with best-in-class Logitech TrueView™ video, wide 180° field of view, and built-in privacy features to give you and your family total peace of mind, inside and out.
Dimensions
Technical Specifications
Wireless Protocol Support: 2.4 GHz
Lens + Camera FOV: Glass lens with 180- degree DFOV
Sensor + Video
16:9 format sensor with up to 1080p HD video recording support
Night Vision Support: Infra-red (IR) light based, automatically triggered based on ambient light sensor in front of camera
Night Vision Illumination: 2 IR LEDs that provide illumination in an unobstructed area up to 15 ft away
Placement
Horizontal surface such as table/shelf etc. Vertical surface such as wall using provided mounting hardware
Iverted surface such as ceiling using provided mounting hardware
Orientation
Orientation: Manually adjustable pan (moving the camera base)
Manually adjustable tilt (turning the camera head up or down)
Manually adjustable rotate (rotating the camera head)
Camera Body Weatherproof Rating: IP 64
Operating Temperature Range: -20-50°C (40°C with night vision illumination on)
1-Year Limited Hardware Warranty
2.4 GHz Wi-Fi-based (802.11 b/g/n) full HD weatherproof security camera with tethered 10-foot power cable
Indoor USB power supply
Wall mounting hardware (mounting plate, cable clips, screws and anchors)
Quick start guide
SECURE VIDEO YOU CAN TRUST
Secure your home a better way with the Circle View HomeKit-enabled home security camera. Designed with best-in-class Logitech TrueView™ video, wide 180° field of view, and built-in privacy features to give you and your family total peace of mind, inside and out.
LOGITECH TRUEVIEW BEST-IN-CLASS VIDEO
Circle View Camera features our Logitech TrueView best-in-class video experience. Capture everything in razor-sharp detail with full HD, 180° diagonal field-of-view glass optics, and more.
See the bigger picture
An ultra wide 180° field-of-view ensures you keep your eye on what matters without missing what's happening on the sidelines.
SUPERIOR CLARITY
Glass optics and a high-quality sensor with wide dynamic range means you catch every detail crystal-clear no matter how bright or dark the environment is.
Enhanced night vision
Circle View Camera's infrared powered night vision is optimized for full-field visibility and superior clarity in the dark up to 14.5 ft away.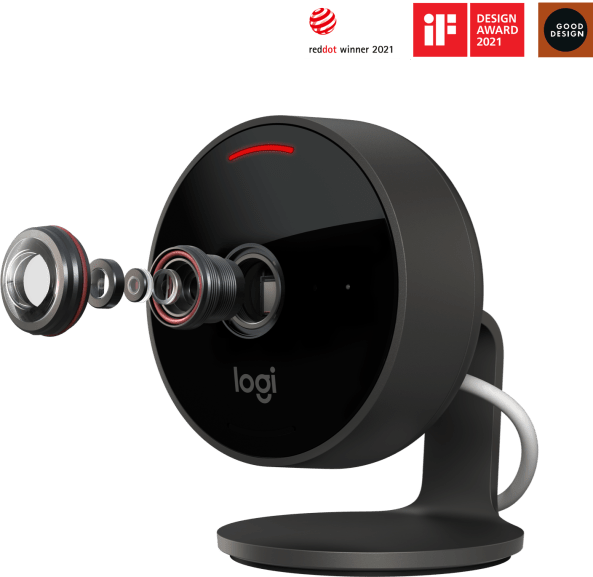 CRAFTED FOR YOUR HOME
Circle View Camera features a stunning design with premium details, including a metal base, matte finish, and a power cable that blends seamlessly with any space.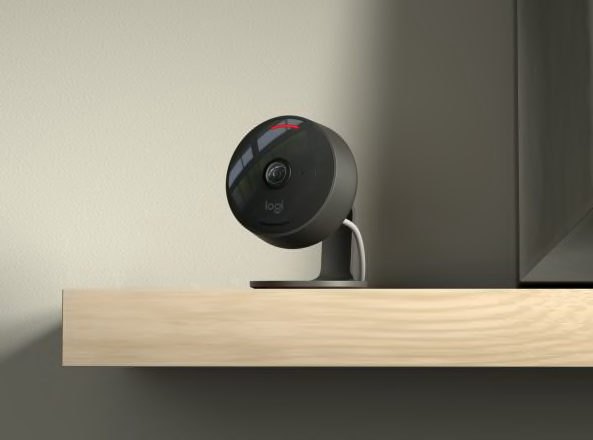 EASY TO SET UP
Power on the camera, add accessory in the Home app on your supported iPhone® or iPad®, scan the unique setup code, and go. That's it.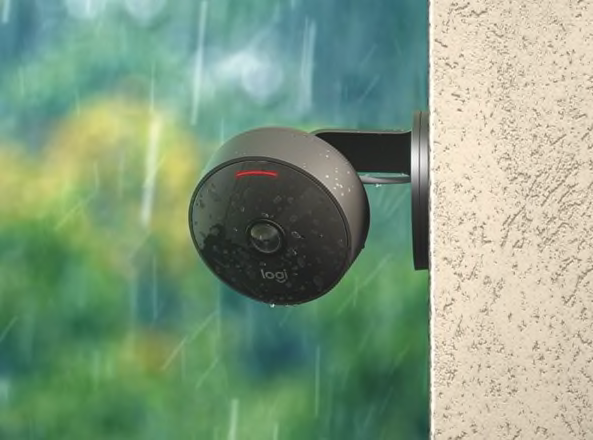 CAN GO ALMOST ANYWHERE
Circle View Camera can be placed on a shelf or wall-mounted with ease, and features a weatherproof body that's built to withstand the elements.
UNPARALLELED PRIVACY
The only one keeping an eye on your home should be you. That's why the Circle View Camera has both hardware and software privacy features built right in. Plus, the HomeKit Secure Video platform ensures your sensitive video stays encrypted at all times.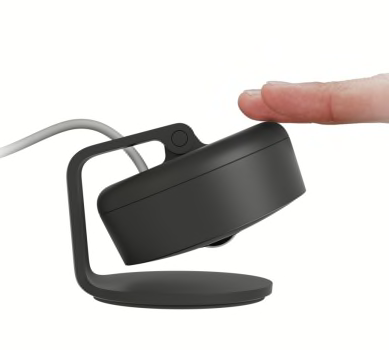 TILT TO HIDE
Need instant privacy at a moment's notice? Simply tilt the camera down to instantly shield yourself from view.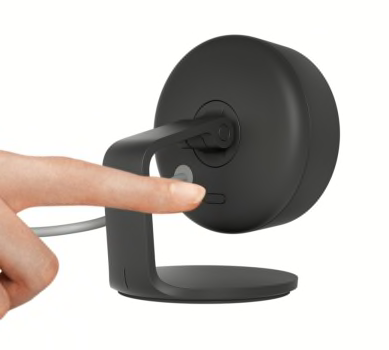 SIMPLE TURN OFF
A rear-mounted button immediately cuts off both audio and video, so you're not left fumbling during private moments.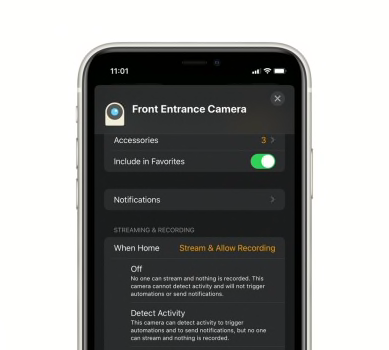 BUILT FOR HOMEKIT SECURE VIDEO
Circle View Camera seamlessly integrates with HomeKit, including access to advanced HomeKit Secure Video features when you have a supported iCloud® subscription, and a HomePod mini®, HomePod®, Apple TV®, or iPad running as a home hub.
END-TO-END ENCRYPTED SECURE VIDEO
Video streamed from your Circle View Camera and iCloud is end-to-end encrypted to your devices, so only you and the people you share your Home app with can view it.
SMART PRIVACY
Choose when your Circle View Camera can stream and record video using HomeKit. In the Home app, set your Circle View Camera to automatically stream and record activity when you and others are away, and turn off when at home.
i

CLOUD RECORDING HISTORY

A 10-day motion-based recording history from your Circle View Camera is securely stored in iCloud on a supported plan, and available to view in the Home app. Camera recordings don't count against your iCloud storage limit.
RICH NOTIFICATIONS
Receive rich notifications on your Apple devices including Apple TV and play video clips right from the Lock screen of your iPhone or iPad when activity is recorded by your Circle View Camera.
INTELLIGENT DETECTION
Your HomePod mini, HomePod, Apple TV, or iPad running as a home hub use on-device intelligence to determine when a person, animal, or vehicle is in the video. Additionally, you can focus on the important areas in front of your door with customizable Activity Zones.
APPLE HOME APP
Set up your Circle View Camera in the Home app and access live view with 2-way audio, and recorded video on your iPhone, iPad, or Mac®. Share your Home app with others so they can view too.
HomeKit requirements:
To control this HomeKit-enabled accessory, the latest version of iOS® or iPadOS® is recommended.
HomeKit Secure Video requires a supported iCloud+SM plan and a HomePod mini, HomePod, Apple TV, or iPad set up as a home hub. It is recommended that you update to the latest software and operating system.*
*Maximum number of cameras dependent on supported iCloud+ plan. Go to apple.com/icloud for more details.
THE LOGITECH HOME SECURITY FAMILY
Keep your home safe and secure in style with the Logitech family of Apple HomeKit-enabled devices. Every Logitech HomeKit device is designed to add an essential layer of security while still complementing and enhancing your home's existing style.
Recommended products for you