Pangea temporary hotfixes here
When Kate Kirwin Couldn't Find a Coding Community Where She Belonged, She Built One
When Kate Kirwin was 20 years old, she started teaching herself to code. But on her own, her progress quickly stalled. The coding groups that existed were dominated by men and Kate felt like she couldn't be her true self and needed to act differently among them. So she started her own community in Australia called She Codes, to teach women technical skills, create connections to career pathways, and provide a female-centered learning environment. Kate's story is the latest feature in the Logitech MX #WomenWhoMaster series. Here, she talks about struggling to find community, her drive to bring fresh ideas to life, and how she hopes to leave the world a better place than she found it.
Q: Were you interested in pursuing a career in STEM from a young age?
When I was younger, I didn't consider a STEM career because it wasn't something that people talked about with me. There was still a stereotype that being a chatty, bubbly, fun person and being in tech were not compatible — even though I know now that they absolutely are. So early in my career, I wanted to do creative things. The idea of seeing something come from nothing is what partly drew me to event planning.   
While I was running events at Spacecubed, a co-working space in Perth, Australia, I got really curious about what people in the community were doing. A lot of members were running their own businesses, building apps, building websites. Even though I had no background in technology, I saw that I could use code to create something fresh.

"I want a society where everyone can just decide what they want to do without stereotypes and stigma attached to their careers. One of my students was even told she's too fun to be in science. What does being fun have to do with anything?"
Q: What inspired your passion to start the program She Codes and advocate for women in STEM?
After I started learning more about the tech industry, I tried to teach myself how to code. Very quickly I found that without a community, it was hard to figure out what the next step was and how to ask for help. I tried to find a community where I could learn, but in that journey, I felt like I couldn't be myself. 
One time I went to a meetup at Spacecubed. This event was in my office, a place where I was very comfortable. The meetup had started by the time I got there. I was wearing a bright green dress and heels. The floor that we have in that space is concrete, so it's quite loud to walk on in heels. Every person in the room was male and almost all of them were wearing black, white, or gray. So when I walked in wearing bright green and loud shoes, the entire room stopped and turned. I felt so uncomfortable. For me to feel that way in a space where I usually felt comfortable, it made me think about how other people feel. So I decided to solve this problem I had and was sure other women had too.

Q: What types of programs and workshops does She Codes provide?
We run three different kinds of programs. We have a one-day workshop, a one-week program, and a six-month part-time program. The one-day workshop is a free, self-paced online tutorial. In the longer programs, we cover more skills like data science, JavaScript, Python, HTML, CSS, as well as backend and front end coding.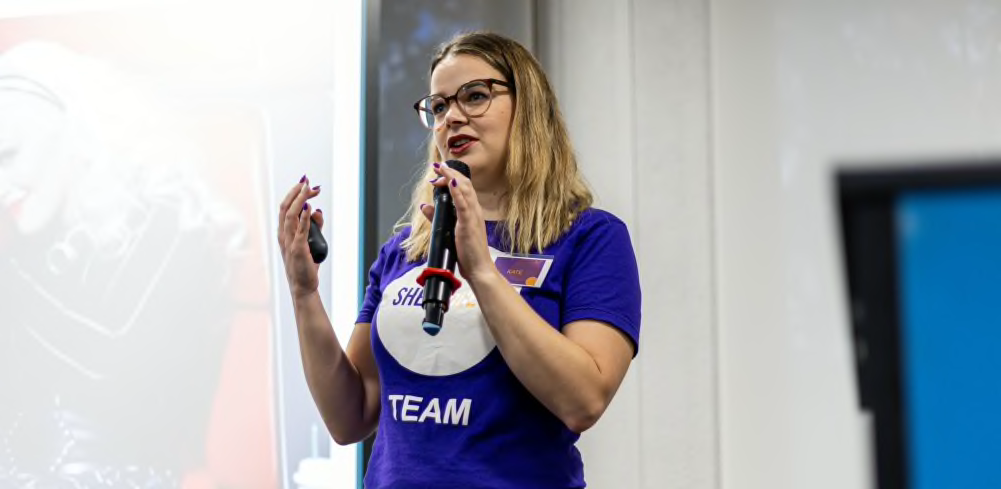 Q: What roles do mentors play at She Codes?
Our mentors are amazing. They are from all across Australia. One thing they do is answer questions on Slack. Last year some of the girls based in Brisbane really connected with one of our mentors, Ben. They kept saying things like, "Oh, we're obsessed with Ben from Perth because he answers all our questions." They were talking about him like they'd met him and he's 4,000 kilometers away!
One important part of how we do things is to have a mix of male and female mentors in our teaching team. The reality is that once students leave our community, most of the people they will work with are going to be men so it's important for students to understand how to work with them. Our male mentors are learning how to work with women too, so it's kind of fixing the industry from the inside as well.

Q: What advice do you have for women who are new to coding or tech and might feel discouraged?
Just because you haven't enjoyed one thing doesn't mean you won't like everything. Figuring out your niche is about trying a bunch of different types of skills. One of our mentors, Michelle, likes to say, "Just because you don't like a coding language or you're not good at it, doesn't mean that you're not good at coding. It just means you haven't found the right language." She's a great example of this. She started her career in one language and she hated it. Now she only codes in Python and she says, "I love Python. This is me, this is where I can hang out."
Q: What are the top STEM skills the next generation should learn?
Teaching the right mindset and how to learn is more important than teaching specific skills. Careers and technology are changing so quickly, most of the jobs of the future don't exist yet.
"Just focusing on skills is fighting a losing game. Teaching people how to learn, unlearn, and relearn is the future."
Q: Imagine for a moment that your great-granddaughter chose the same career as you, she's graduating in the year 2100. What do you want her future to look like?
Where I want to get to is for my job to not exist. I want it to be a society where we don't have all of these barriers for women; where we do have diversity. I've also heard women be told that a tech career isn't a safe career pathway for women or they're not nerdy enough. Living in a society where we don't have all of the hangups of needing to be a certain kind of person or be a certain level of intelligence to be in tech is what I hope for most.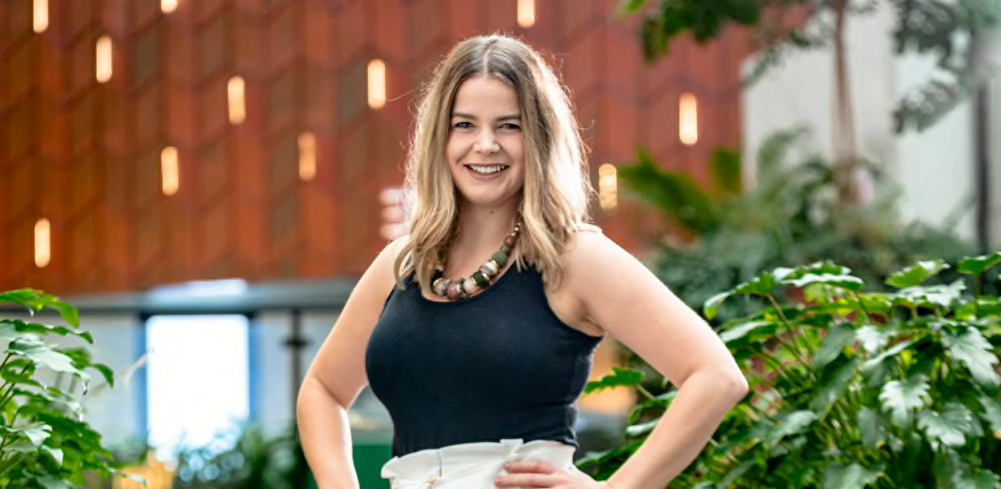 Connect with Kate on LinkedIn and Instagram or learn more about her work at She Codes.
Women Who Master puts a spotlight on women who have made outstanding contributions to STEM fields. The goal of the series is to celebrate those contributions, inspire future leaders, and help close the gender gap in technology.
Photo credit: Kate Kirwin

Women Who Master
Logitech MX is committed to spotlighting and supporting impactful initiatives and individuals that are disrupting the industry worldwide, to inspire girls and women to pursue a career or continue thriving in STEM.
With #WomenWhoMaster, our mission is to ignite an industry-wide movement that addresses the gender gap and unequal access to opportunities in tech and IT, once and for all.