Pangea temporary hotfixes here
Keys-To-Go
Ultra-light, Ultra-Portable Bluetooth® Keyboard for iPhone, iPad, Apple TV and Mac
Keys-To-Go
Ultra-light, Ultra-Portable Bluetooth® Keyboard for iPhone, iPad, Apple TV and Mac
One keyboard, all your devices. Keys-to-Go is a portable, wireless, Bluetooth keyboard that seamlessly works with all of your Apple devices, including your mobile devices, computer, and smart TV.
Dimensions
Technical Specifications
Power and Connectivity
Powered by rechargeable battery
Single charge lasts 3 months (2 hours of typing per day)
Keyboard
Keyboard with sealed edges
17 mm key pitch
Scissor Keys (1.2 mm key travel)
Keys wrapped in spill-proof, crumb-proof covering
Full row of iOS shortcut keys
Keys-To-Go with iOS Shortcut Keys (Left to Right)
Home
Brightness up
Brightness down
Virtual Keyboard
Search
Previous track / Rewind
Play/pause
Next track / Fast forward
Volume mute
Volume down
Volume up
Lock
Bluetooth connect
Keyboard battery check
1-Year Limited Hardware Warranty
Keys-To-Go with iOS Shortcut Keys
iPhone stand fits all iPhones (without case)

Keys-To-Go Keyboard
USB Charging Cable
iPhone Stand
Documentation
Keys-to-Go
Ultra-light, Ultra-portable Standalone Wireless Bluetooth Keyboard
TYPE ON YOUR TERMS
Type anywhere you want, anytime you want, on iPhone, iPad, and Apple TV. The super-slim, super-light Keys-To-Go is small enough to fit anywhere and break out at a moments notice for a quick work email, taking notes in class, and more. Get ready to break free of on-screen keyboards and take the limits off what you can do.
Black
Blush
Classic blue
GO PAIR WITH ALMOST ANY SCREEN
KEYS-TO-GO is super simple to connect to your iPhone, iPad, AppleTV and more. It sets up in seconds with Bluetooth, so you can seamlessly continue sending texts on your phone. Or quickly turn your tablet into a laptop and type away anywhere. It can even help you tap into all the fun of your media center without getting up from your comfy chair.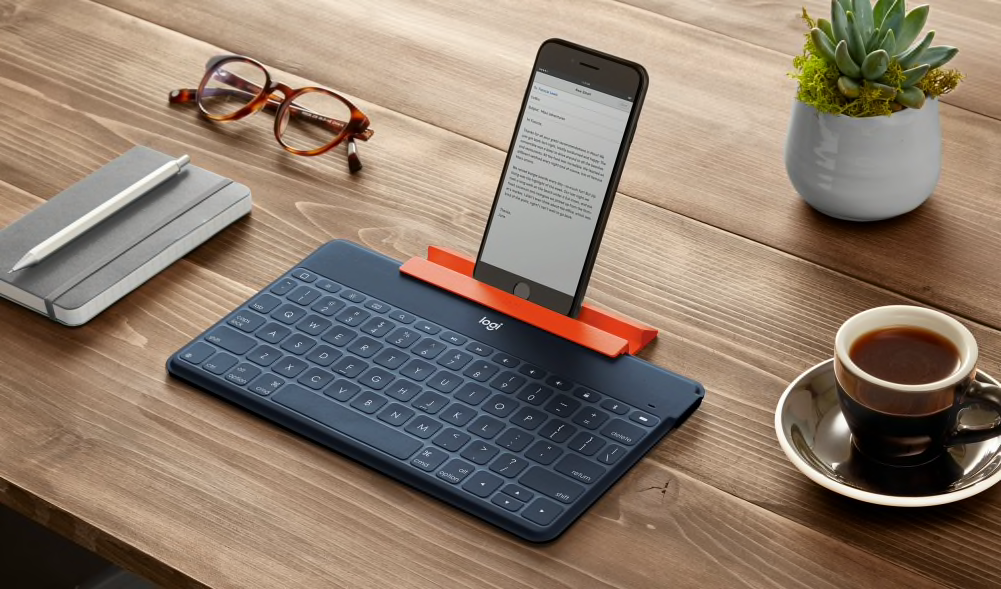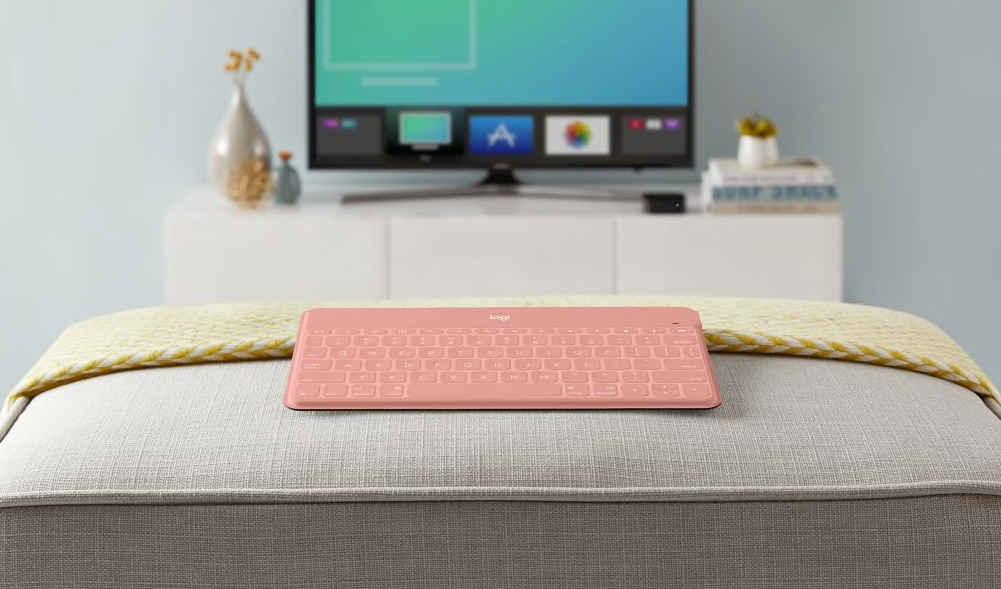 1
2
3
GO PACK LIGHT AND THINK BIG
At only 6.3 mm thick and 24 cm long, KEYS-TO-GO is the ultra-mobile keyboard you can take anywhere. When you're ready, just whip it out and type like crazy.
GO ELEGANT AND EFFORTLESSLY COOL
Fashion and function all in one, KEYS-TO-GO compliments any space. It stylishly integrates into your lifestyle whether you happen to be working in the backyard or at your kitchen table.
GO TYPE IN HUSHED TONES
KEYS-TO-GO looks like a regular keyboard but feels and sounds much different. Actually, it doesn't sound like much at all. Welcome to silent typing. Type quietly, take notes, send emails, or write up a storm—on your phone or tablet—without disturbing those around you.
GO FOR A SWEET, FAMILIAR FEEL
KEYS-TO-GO feels great to type on. Enjoy the ease and comfort of a normal keyboard layout whether you're curled up in a chair camping or on the sidelines of your kid's soccer game. You'll get great tactile feedback and perfect bounce every time you press a key—all with impressively fast and accurate results. Plus, a full row of function keys and shortcuts perform your favorite iOS-specific actions.
FULL ROW OF SHORTCUT KEYS
Forget hunting through on-screen menus for common functions. KEYS-TO-GO gets it done with a full row of iOS shortcut keys. Adjust volume and media controls, screen brightness levels, and more with one-tap access.

1 - Home: go to home screen
2 - Screen Brightness: adjusts brightness up or down
3 - Onscreen Keyboard: shows/hides the onscreen keyboard
4 - Search: brings up search field
5 - Media Controls: Back, Play/Pause, Forward
6 - Volume Controls: Mute, Volume down, Volume up
7 - Screen on/off: locks device screen
8 - Bluetooth Connect: enter discovery/pairing mode
9 - Battery Check: status light shows power level
GO POWERED FOR THE LONG HAUL
Ideas need a home and emails need answers. Right now. Super reliable and tiny-to-tote, KEYS-TO-GO lets you type for up to 3 monthsBased on 2 hours average usage per day without having to recharge the battery. A battery level indicator light tells you when it's time to recharge and with the included USB cable, charging is easy.
GO SPILL PROOF AND LIFE RESISTANT
"Nooo!" moments happen. We're ready for them. That's why KEYS-TO-GO is wrapped in a smooth-the-touch, durable covering. Its liquid-repellent secure seal protects the keyboard from spills, crumbs, and dirt. Toss it in your bag over and over (and over) without worrying about bumps or scrapes. Wipe away messes for simple, easy clean up.Power button and charging port are not spill proof.
GO GIVE YOUR THUMBS A REST
Some replies demand more than 140 characters. That's when a portable wireless keyboard is essential. KEYS-TO-GO features a handy attachable stand for iPhone (or any phone) to rest in an upright, easy-to-read position. Now you can get your work done without uncomfortably hunching over your phone.
GO GRAB A CRAYON
Logitech Crayon is the perfect companion for KEYS-TO-GO, a versatile, pixel-precise digital pencil for all iPads (2018 and later) that boosts productivity and lets you get creative. Mark up PDFs, take handwritten notes, or sketch diagrams — Logitech Crayon works with hundreds of Apple Pencil supported apps so you can start learning, collaborating, and creating on iPad instantly.
Apple, AirPods, AirPods Pro, Apple Pencil, Apple Watch, Face ID, FaceTime, iPad, iPad Air, iPad mini, iPadOS, iPad Pro, iPhone, Keynote, Mac, Multi-Touch, Numbers, and Pages are trademarks of Apple Inc., registered in the U.S. and other countries.