Pangea temporary hotfixes here
Logitech +
Google Workspace
VIDEO COLLABORATION FOR
THE HYBRID WORKFORCE
With the future of work heading toward a hybrid blend of in-person and at-home schedules, the way we collaborate has changed. More than ever, professionals find themselves needing the right video collaboration solutions.
Together, Logitech and Google Workspace give every employee the right tools to work from anywhere, maximize their impact, share knowledge, and make meaningful connections — in every setting and circumstance.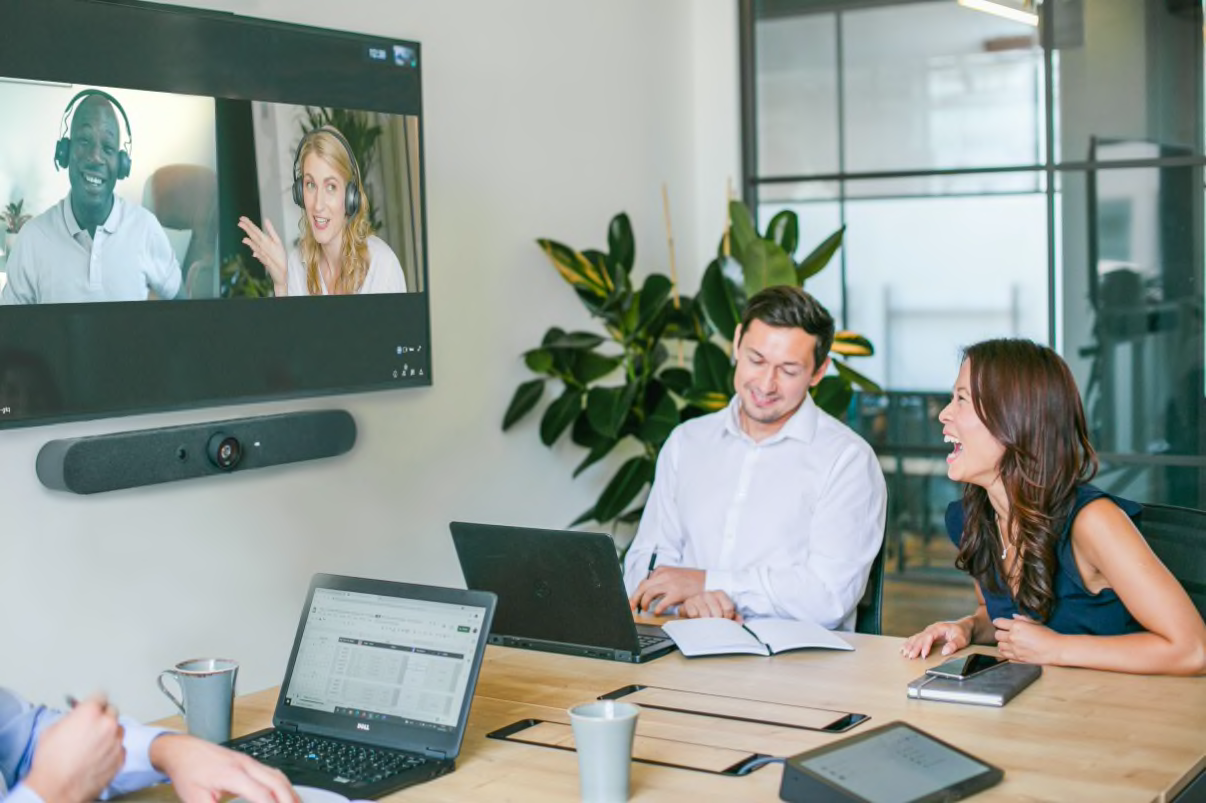 BETTER TOGETHER
With Google Meet and Logitech video collaboration solutions, hybrid workers can collaborate with confidence. Logitech optimizes the meeting experience with industry-leading audio and video capabilities. The complete portfolio of Google Meet–certified Logitech products range from MeetUp and the Rally family of conference cameras for meeting rooms to personal collaboration devices such as Logi Dock, the C925e webcam, and Zone headsets and earbuds.
Transform any meeting space into a Google Meet room with one-touch join, wired and wireless content sharing, and center-of-room control. Each room solution comes with everything you need to video-enable your meeting spaces, including a Logitech conference camera, a Google Meet compute system, and a Logitech Tap touch controller. Logitech room solutions are available in small, medium, or large configurations with available accessories to suit each space.
DEVICES FOR PERSONAL SPACES
Logitech's personal collaboration devices integrate seamlessly with Google Meet and Google Voice to help all employees stay connected and productive, whether remote or in the office.
Logidock
Brio 505
zone true wireless
zone wired earbuds
Zone Vibe Wireless
CUSTOMER STUDY
RANDSTAD
In April 2020, Randstad opened a new head office in Stockholm. During the planning phase, the company recognized the opportunity to standardize on Google Meet-compatible hardware components throughout the facility. The goal was to make video meetings as simple as possible for their users and offer the same experience in every meeting space.
CUSTOMER STUDY
SISLEY
When French luxury brand Sisley decided to upgrade its Paris offices to Google Workspace, the company needed a video meeting infrastructure that works seamlessly with Google Meet and supports the evolving work styles of Sisley employees and teams. Logitech room solutions for Google Meet made it easy for Sisley to provision collaborative meeting spaces.
CUSTOMER STUDY
MICHIGAN COLLEGES ALLIANCE
The Michigan Colleges Alliance uses video conferencing to support its core mission of connecting classrooms over long distances. Logitech video conferencing products and Google Meet deliver an optimal combination of A/V quality, ease of use, flexibility, and value to enable the university to support rapidly increasing demand for video in the classroom and beyond.
CONTACT SALES
Our team of product experts can help you find the best solution for your company. Fill out the form and a Logitech representative will contact you.
THANK YOU FOR CONTACTING US