Pangea temporary hotfixes here
ERGONOMICS MEETS PERFORMANCE
MX Vertical is an advanced ergonomic mouse that combines science-driven design with the elevated performance of Logitech's MX series.

Rise above discomfort with a mouse designed to reduce muscle strain, decrease wrist pressure, and improve posture.
57° VERTICAL ANGLE FOR IMPROVED WRIST POSTURE
MX Vertical's unique 57° vertical angle reduces the pressure on your wrist, while your thumb is positioned comfortably on the thumb rest.
GREAT FIT FOR LARGE TO MEDIUM HANDS
MX Vertical is great for large to medium hands, specially designed and sculpted by Logitech's team of ergonomic and design experts. Not sure about your hand size? 
USER TESTED. ERGONOMIST-APPROVED.
MX Vertical has been designed and tested with criteria set out by leading ergonomists – improving posture, lowering muscle strain, and reducing wrist pressure.
COMFORT FORM WITH TEXTURED SURFACE
MX Vertical is shaped for the human hand and smooth to the touch. Its unique form with textured rubber surface assures a solid and natural grip.
ELEVATED PERFORMANCE
Logitech's MX mice are engineered for masters of their craft who want to get more done, more efficiently.

Logitech Flow allows you to seamlessly control multiple computers – and you can customize buttons, set application-specific functions, and adjust cursor speed via Logi Options+ software.
PREMIUM SCROLL WHEEL
Get things done quicker with a precision scroll wheel featuring a convenient middle click.
EASY-SWITCH™ AND FLOW-ENABLED
THREE WAYS TO CONNECT
Connect MX Vertical via the included USB-C charging cable, Logitech Unifying Receiver, or Bluetooth®.

For the best product experience with Bluetooth, please upgrade your computer's operating system to the latest version.
WORK BETTER. WORK HEALTHIER.
Perform at your best with the Advanced Ergonomic Solution that includes an ergonomic keyboard and mouse combo—plus the right webcam and headset for good posture during calls.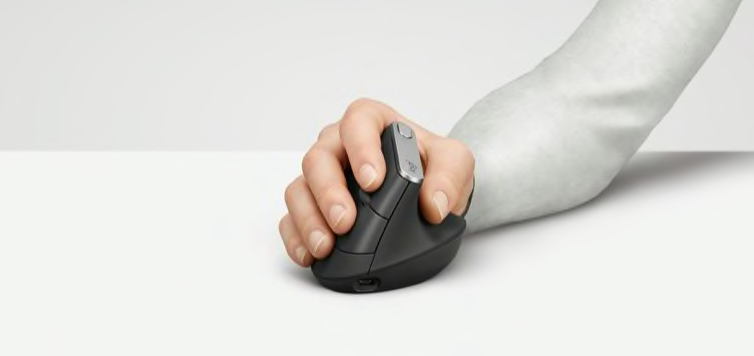 THREE WAYS TO CONNECT
Logitech Unifying wireless technology via USB receiver
Bluetooth® Low Energy Wireless technology
USB-C charging cable
DROP RESISTANT AND BUILT TO LAST
MX Vertical is drop-resilient for up to 90 cm and tested to perform for 10 million quality clicks, making it a reliable tool for evolving and demanding workspaces.
COMPATIBILITY
Logitech Unifying USB Receiver
Bluetooth
WARRANTY
1-Year Limited Hardware Warranty
Contact Sales
Our team of product experts can help you find the best solution for your company. Fill out the form and a Logitech representative will contact you.
RESELLERS
Purchase from one of our trusted resellers.
GET SUPPORT
Have questions? Visit our support site to find answers.
THANK YOU FOR CONTACTING US
A product expert will reach out to you shortly.
THE LOGI ERGO LAB
An approach to designing ergonomic products and solutions that help people feel better so they can work better.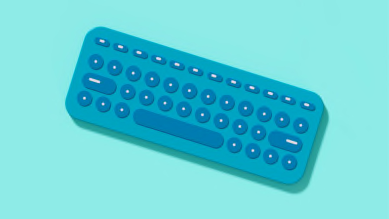 Could Less Be More For You? Try A Minimalist Keyboard
If you have a smaller stature and don't need a numpad, a minimalist keyboard could help you feel better and do better at work.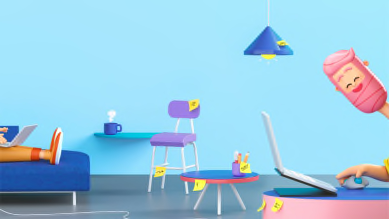 Get The Most Out Of Your Logitech Devices
Learn how to use our Customization app Logi Options+ features to become even more efficient and make time for the important stuff.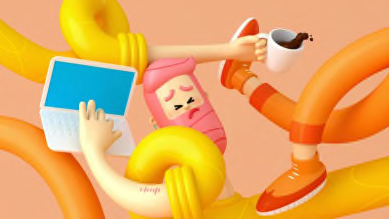 What's a Neutral Posture?
Ergo Series products are designed to promote a more neutral posture – find out why.
SMALL
(< 17,5 cm)
(< 6,9 inches)
Less than 3 credit cards
MEDIUM
(17,5 – 19,0 cm)
(6,9 – 7,5 inches)
Just about 3 credit cards
LARGE
(> 19,0 cm)
(> 7,5 inches)
3.5 credit cards or more