Pangea temporary hotfixes here
Made For
Builders Of Tomorrow
If you can think it, you can master it. Whether you're a creative or a coder, Logitech MX has crafted a solution designed to bring your projects and ideas to life and let you take control of your workflow. Keep productivity going with USB-C quick charging, easy switch for up to 3 devices, multi-OS compatibility, multi-device flow, and app-specific customizationsRequires Logi Options+ app available on Windows and macOS at logitech.com/optionsplus .
Mx For Coders
Master your workflow until your last line of code is written and compiled. Choose your preferred low-profile typing experience — deep mechanical feel or laptop-like fluidity.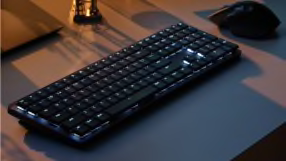 Precise Keystrokes, In Any Light
Key stability reduces noise while optimizing responsiveness, and tactile references position your hands for more precision. Smart Backlighting lights up your keys as your hands approach and adjusts to changing lighting conditions.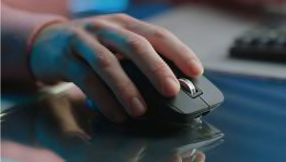 Scroll 1,000 Lines Of Code Per Second
The Electromagnetic MagSpeed wheel on MX Master 3S and MX Anywhere 3S lets you scroll 1,000 lines of code per second. The wheel's machined steel gives it premium tactility and enough weight to offer dynamic inertia you can feel.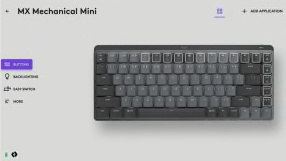 Countless Customizations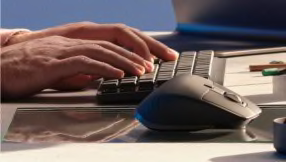 Code In Comfort
MX mice are shaped with silhouettes crafted for the shape of your palm, and MX keyboards are crafted for stability and support. Have your choice of either a full-size keyboard or one with a compact minimalist form factor.
Full-Size Productivity
Ideal for: Coders, Data Scientists, Finance & Business Professionals
THINK CONCEPT. MASTER EXECUTIONS.
MX For Creatives
The Master Series is built for every step of the creative process – from designs that inspire focus, to customizations that keep you in your creative flow, and file transfer that makes cross-computer work totally seamless.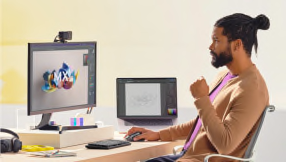 One Flow For Your Creative Ecosystem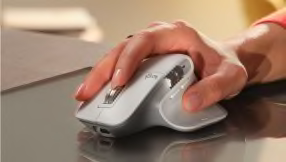 Quickly Navigate Artboards And Timelines
MX Mice makes changing brush sizes and navigating timelines easier than ever with an ideally placed thumb wheel. Flow through your work faster than ever with the electromagnetic MagSpeed scroll wheel.
Precision At Your Fingertips
The 8K DPI sensors on some MX Mice lets you have more control and precision on high-resolution monitors. Perfect Stroke keys on MX Keys keyboards are shaped for precision while the switches on MX Mechanical keyboards give you a tactile typing experience.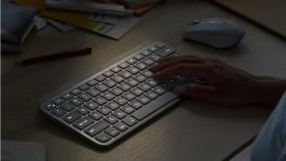 Designed For Day And Night Comfort
Keep your mind and body ready to create more, with aesthetic simplicity and comfort that go hand in hand. MX mice silhouettes are crafted for your palm, and keyboard form factors and low-profile keys are designed to make your comfort last.
Any Project.
Anywhere.
MX Anywhere 3S is designed for mobile work – from the home office to the cafe, to the airport lounge.
The compact performance mouse features a low-profile design contoured for the shape of your hand – with a durable build that's made to withstand the bumps and drops of mobile work.
Women Who Master
Logitech MX is committed to spotlighting and supporting impactful initiatives and individuals that are disrupting the industry worldwide, to inspire girls and women to pursue a career or continue thriving in STEM.
With #WomenWhoMaster, our mission is to ignite an industry-wide movement that addresses the gender gap and unequal access to opportunities in tech and IT, once and for all.
Unleash your potential with a combination of MX solutions that work best for you. Whether you are the type of person who needs an advanced and complete setup, has ergonomic needs, or need to be light and productive anywhere.