Pangea temporary hotfixes here
Home Learning Tips For Parents
MAKE HOME LEARNING EASIER
With your whole family packed in at home, here's how to create better workspaces so your kids can learn, connect, and create—with fewer distractions, and more bridges to effective learning.
(Even in the living room.)
BUILDING A BETTER
WORKSPACE
SET 'EM UP RIGHT
Learning from a screen for several hours a day? That's a new experience for kids. That's why the setup is so important—it ensures that they maintain good posture. Also, make sure to set up a schedule with breaks. Kids need to move, and it's critical for health!
CULTIVATE CREATIVITY
No two students are exactly alike. With big, creative minds, students need the tools to match, so they can express themselves organically, learn better, and thrive. Whether it's handwriting, drawing, or making a video, putting the right tools in their hands can make it happen.
FOR CHROMEBOOKS AND LAPTOPS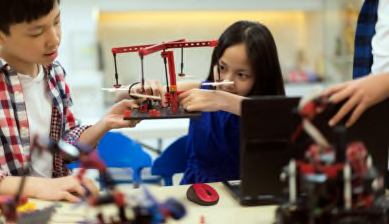 BETTER NAVIGATION
With kids' motor skills still developing into their teens, adding a mouse to their setup could make their work a whole lot easier, depending on the situation.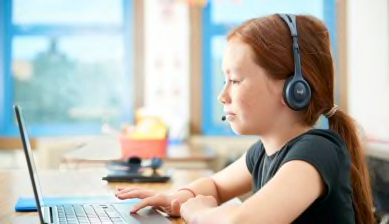 CUT THE NOISE
Kids' audio processing skills are still developing through their teens, so in order to retain information, they need their audio dialed up to a higher volume than any background noise. Make sure to pick a headset with a built-in microphone so your child can also be heard.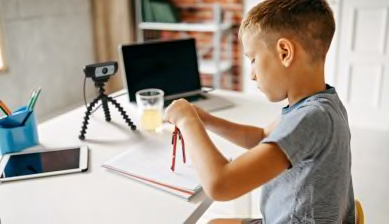 SHOW YOUR WORK
Webcams are flexible and let you choose what's being seen on-screen. Position your webcam on a tripod or shelf at an angle to get the right effect. For older children, a webcam with a tripod can be used as a document camera, allowing your child to easily show teachers or classmates what they're working out on paper.
GET SET UP FOR DIGITAL WELLNESS
Set up children and teens for hours of work while minimizing eye and muscle strain. A few tweaks and additions can make a world of a difference for your kids' learning experience.
BETTER TYPING
Adding an external keyboard frees up screen space otherwise taken by the virtual keyboard and makes it easier to type, too.