Pangea temporary hotfixes here
Over-the-ear headphones with Bluetooth and USB receiver. Certified for business and perfect for hybrid work.
CERTIFIED FOR BUSINESS
Zone Vibe Wireless is certified for Microsoft Teams, Zoom, Google Meet, Google Voice, and works easily with other leading meeting and calling platforms. This headset is simple to use and priced for mass deployment.
WORK IN COMFORT AND STYLE
Provide stylish all-day comfort with Zone Vibe Wireless.
LESS WEIGHT. MORE COMFORT.
Zone Vibe Wireless is lighter than most over-the-ear headphones and earpads are made with memory foam for hours of comfort. Employees can find their perfect fit by expanding the headband or adjusting the earcups.
Increase adoption rates with modern design. With a mic boom that tucks away for a clean look, Zone Vibe Wireless is made for employees who want business features without sacrificing style.
AUDIO THAT'S MADE FOR VIDEO
Meet like a pro — in the office or at home. The noise-canceling mic with beamforming technology suppresses background sound so speakers can be heard clearly. Employees can flip to mute the mic for instant privacy.
IMMERSIVE AUDIO
Bring meetings and music to life with true, natural sound. 40mm speaker drivers deliver full-bodied bass, crisp higher frequencies, and low distortion. Customize 5-band EQ settings with Logi Tune.
QUICK TO DEPLOY. SIMPLE TO MANAGE.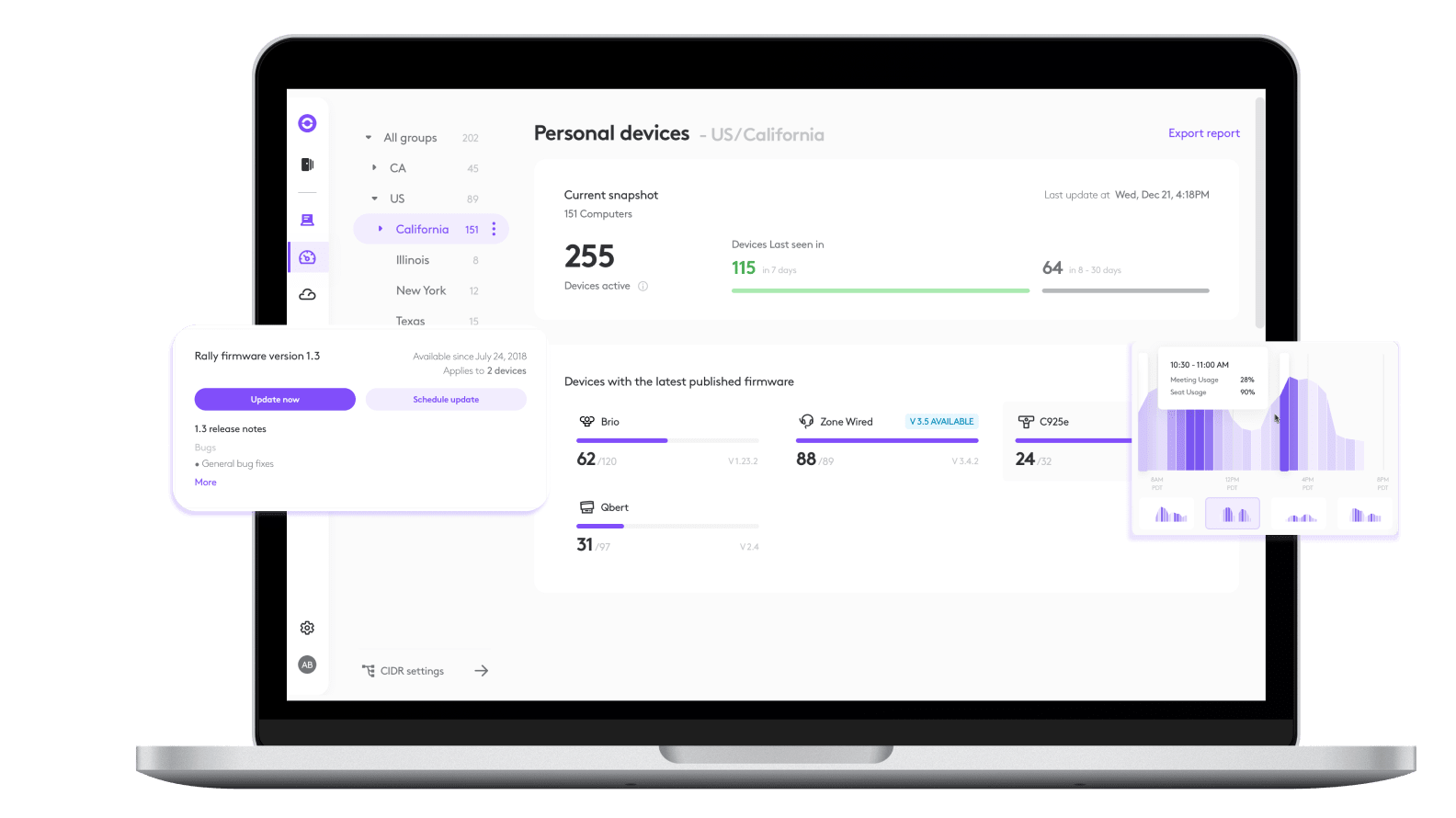 MAXIMIZE PERFORMANCE. MINIMIZE DISRUPTIONS.
Support your hybrid workforce, configure all your meeting rooms in one place and keep your Logitech video collaboration devices healthy and up to date with Sync. Monitor rooms, devices, and peripherals from anywhere and resolve problems before they impact a meeting.
CUSTOMIZE THE EXPERIENCE
Own your video meeting experience, wherever you are. Ensure you always look and sound the way you want with on-screen webcam and headset settings. Plus, keep your devices up to date and join meetings with just one click.
SUSTAINABILITY AT LOGITECH
Logitech is committed to creating a more sustainable world. We are actively working to minimize our environmental footprint and accelerate the pace of social change.
Made With Recycled Plastic
The plastic parts in Zone Vibe Wireless include certified post consumer recycled plastic — 25%excluding accessories and packaging — to give a second life to end-of-life plastic from old consumers electronics and help reduce our carbon footprint.
Responsible Packaging
The paper packaging of the Zone Vibe Wireless comes from FSC™-certified forests and other controlled sources. By choosing this product, you are supporting responsible management of the world's forests.
CERTIFIED CARBON NEUTRAL
Zone Vibe Wireless is certified carbon neutral. This means the carbon impact of the product and packaging has been reduced to zero due to Logitech investment in carbon-offsetting and removal projects.
Recycled Plastic
Responsible Packaging
Carbon Neutral
OPTIMIZE WORKSPACES
Outfit each employee's home office or workstation with a suite of Logitech devices that deliver a unified experience. Improve employee productivity and simplify device management for IT.
ZONE VIBE WIRELESS
Over-the-ear headphones with Bluetooth and USB receiver — certified for business and perfect for hybrid work
ZONE VIBE WIRELESS
Over-the-ear headphones with Bluetooth and USB receiver — certified for business and perfect for hybrid work
Headset

Height: 183.0 mm
Width: 169.7 mm
Depth: 73 mm
Weight: 185 g

Ear pad

Height: 98.6 mm
Width: 75.4 mm
Depth: 19.3 mm

USB-C receiver

Height: 26.8 mm
Width: 12.4 mm
Depth: 6.2 mm

USB-A adapter

Height: 24.5 mm
Width: 15.4 mm
Depth: 8.7 mm

Works with Windows, Mac, or Chrome based computers via USB-C, USB-A, Bluetooth and iOS or Android Bluetooth enabled devices.

Microphone

Type: Dual omni-directional MEMS mics with directional beamforming and DSP
Frequency Response: 100-8 kHz

Speakers

Frequency response (music mode): 20-20 kHz
Frequency response (talk mode): 100-8 kHz
Audio compliance: Compliant to EN 50332

Battery

Built-in battery (Lithium ion)
Battery life (talk time): 18 hrs
Battery life (listening time): 20 hrs

Wireless headset
USB-C receiver
USB-C to USB-A adapter
(Only use the USB-A adapter with the provided headset)
Charging cable
Travel Bag
User documentation

2-Year Limited Hardware Warranty

Graphite Zone Vibe Wireless (UC version) :

981-001200

Graphite Zone Vibe Wireless (Teams version) :

981-001158
Contact Sales
Our team of product experts can help you find the best solution for your company. Fill out this form and a Logitech representative will contact you.
THANK YOU FOR CONTACTING US
A product expert will reach out to you shortly.
Find The Right Product For You
Description
Active Noise Cancellation
Noise Canceling Microphone
Flip-to-mute mic
Connections
Multipoint Bluetooth
Audio driver size
Battery Life (talk time)*
Controls
Customize with Logi Tune
LEGAL TRADEMARK STATEMENT
The Bluetooth® word mark and logos are registered trademarks owned by Bluetooth SIG, Inc. and any use of such marks by Logitech is under license. macOS, Chrome OS, Android, the "BlueJeans" badge, Google Meet, the "Works with Google Meet" badge, Google Voice, the "Google Voice" badge, the "RingCentral" badge, Microsoft Teams, the "Certified for Microsoft Teams" badge, the "GoTo" badge, Windows, Zoom, the "Zoom Certified" badge, and USB-C and all other third party trademarks are the property of their respective owners.