Pangea temporary hotfixes here
Mx Anywhere 3S
Experience the performance and versatility of MX Anywhere 3S, an iconic compact mouse, now with an 8K DPI track-on-glass
4 mm minimum glass thickness.
sensor and quiet clicks.
Master Your Flow. Anywhere.
Experience ultimate versatility with remarkable performance. An advanced compact mouse that lets you work wherever the work takes you. Now with next-level precision and responsiveness thanks to 8K DPI any-surface tracking and quiet clicks.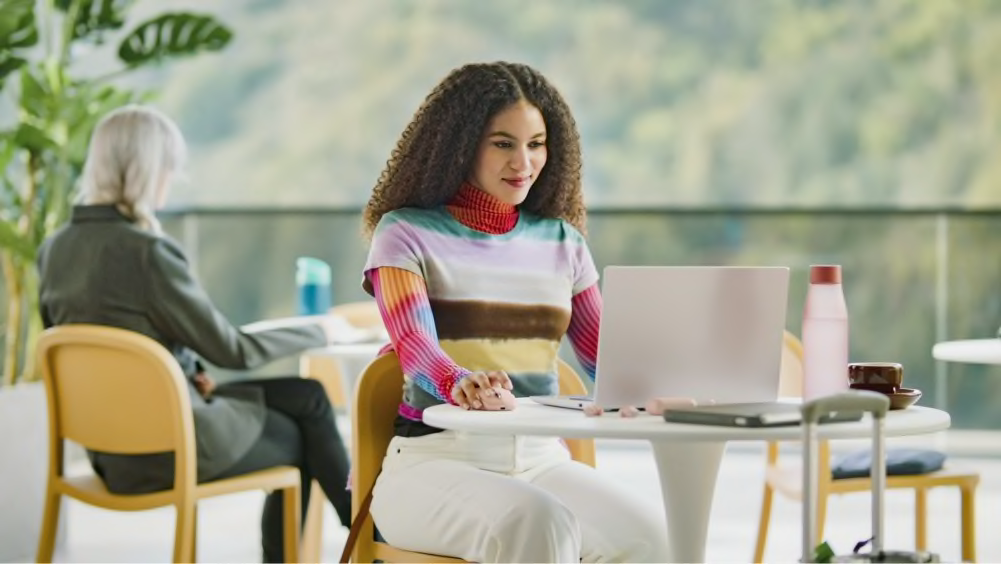 Tracks Everywhere, Goes Anywhere
Keep your movements as smooth as your workflow. MX Anywhere 3S is equipped with an 8K DPI optical sensor that tracks anywhere – even on glass4 mm minimum glass thickness. — meaning you can work seamlessly at the desk, cafe, or even on the couch.
High DPI tracking means you can cover more ground with subtle movements – perfectly suited for work on the go or in small spaces so you hit the right pixel every single time with less effort. Adjustable in Logi Options+.
Deeper Flow With Quiet Clicks
MX Anywhere 3S introduces quiet clicks - so you can stay in your flow and master any project with less distractions and more focus.
The Quiet Click buttons offer a soft, satisfying click feel – but with less click noise(than MX Anywhere 3). You'll get the same performance, precision, and reliability you've come to expect.
Work Comfortably From Anywhere
Turn most surfaces into your desk – whether that be at the cafe, the office, or at home. We designed the MX Anywhere 3S to be thrown in your bag and easily cleaned after months of use. With a compact, low-profile design contoured for the shape of your hand, you'll be comfortable for hours no matter where you work. Silicone side grips mean it's always soft to the touch.
USB-C Quick Charging,
Long-Lasting
Charge while you work with the included USB-C charging cable.
3 Hours
OF USE FROM 1 MINUTE CHARGE
Customize And Optimize Your Workflow With Logi Options+
Do more with your MX Anywhere 3S with the Logi Options+ app. Effortlessly take control of your workflow with the Logi Options+ app, designed to transform how you work. With Options+ you can work across devices and operating systems using the Flow feature, set tracking speed, customize individual buttons, and use ready-made app-specific customizations to optimize nearly every aspect of your workflowRequires Logi Options+ app, available for Windows and macOS.
1 – MAGSPEED WHEEL
The scroll wheel automatically shifts from line-by-line scrolling to free-spinning when you scroll faster
2 – MODE SHIFT BUTTON
Click to manually toggle between Ratchet and Free-Spin modes
3 – SIDE BUTTON FORWARD
Move forward with perfectly-placed button
4 – SIDE BUTTON BACK
Move back with perfectly-placed button
1 – MIDDLE CLICK
Pan (Hold & Move)
2 – REDO
3 – UNDO
1 – MIDDLE CLICK
Pan (Hold & Move)
2 – REDO

3 – UNDO
1 – MIDDLE CLICK
Open link in a new tab
2 – REDO

3 – UNDO
1 – START / STOP VIDEO
2 – MUTE/UNMUTE MIC
1 – MIDDLE CLICK
Autoscroll
2 – SCROLLING
Vertical Scrolling with left/right button click
3 – REDO
4 – UNDO
1 – MIDDLE CLICK
Pan (Hold & Move)
2 – SCROLLING
Vertical Scrolling with left/right button click
3 – REDO
4 – UNDO
Seamless Connectivity
Our powerful connectivity platform uses Bluetooth Low Energy technology. No dongles, no wires, no hassle.
MX Anywhere 3S has been tested to meet strict Intel® requirements to ensure great user experience, seamless connectivity and reliability. Our device meets technical specifications for an optimal Bluetooth connection.
Verified wireless stability
Faster reconnect and recovery times
Ready for work when you are
Will not pair with other Logitech USB receivers
A Design Choice You'll Feel Good About
It's not just what's inside the box…
RESPONSIBLE PACKAGING
The paper packaging of MX Anywhere 3S comes from FSC®-certified forests and other controlled sources. By choosing this product, you are supporting responsible management of the world's forests.
Everything in to take carbon out
CERTIFIED CARBON NEUTRAL
MX Anywhere  3S is certified carbon neutral. This means the carbon impact of the product and packaging has been reduced to zero due to Logitech's investment in carbon-offsetting and removal projects.
1
2
3
Recommended products for you
Recommended products for you
Women Who Master
Logitech MX is committed to spotlighting and supporting impactful initiatives and individuals that are disrupting the industry worldwide, to inspire girls and women to pursue a career or continue thriving in STEM.
With #WomenWhoMaster, our mission is to ignite an industry-wide movement that addresses the gender gap and unequal access to opportunities in tech and IT, once and for all.