Pangea temporary hotfixes here
M331 SILENT PLUS
Extra comfort and precision with SilentTouch
M331 SILENT PLUS
Extra comfort and precision with SilentTouch
M331 Silent delivers advanced right-hand comfort, excellent accuracy, long battery life, and broad compatibility—all while reducing over 90% of clicking sounds.
Dimensions
Mouse
Height: 105.4 mm
Width: 67.9 mm
Depth: 38.4 mm
Weight (with batteries): 91 g
Technical Specifications
Sensor Technology
High Precision Optical Tracking
DPI (Min/Max): 1000±
Buttons
Number of Buttons: 3 (Left/Right-click, Middle click)
Scrolling
Line-by-line scrolling
Scroll Wheel: Yes, Rubber, 2D , mechanical
Sustainability
Product carbon footprint: 3.97 kg CO2e
Certified carbon neutral
1-Year Limited Hardware Warranty
Black :

910-004914

Blue :

910-004915

Red :

910-004916
Required: Available USB Port
Mouse
Nano receiver
1 AA battery (pre-installed)
User documentation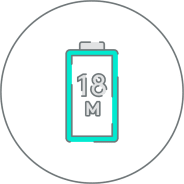 ALL-DAY COMFORT
M331 is a result of Logitech's expertise and innovative approach designing comfortable solutions for over 25 years. Its asymmetric shape is meticulously crafted to guide your right hand to a natural position, while the soft rubber surface with distinctive patterns improves touch feeling. All that allows you to work or study comfortably for hours.
EASY NAVIGATION, PRECISE CONTROL
Track and scroll with excellent accuracy and precision. M331 features a rubber scroll wheel with tactile feel that gives you a controlled line-by-line scrolling experience. Logitech's high precision tracking offers next-level cursor control for great navigation on almost any surface.
QUALITY YOU CAN COUNT ON
The mouse is built with the same high quality standards that have made Logitech the global leader for mice and keyboardsBased on independent sales data (in units) aggregated for Logitech mice and keyboards from major global markets including Canada, China, France, Germany, Indonesia, Republic of Korea, Russian Federation, Sweden, Taiwan,Turkey, UK, US (July '19 - July '20 period). Retail channel only.. Durable and reliable, M331 also works up to 18 monthsBattery life may vary based on use and computing conditions. without changing batteries thanks to the on/off switch button and auto-sleep power-saving mode.
Decades of Design Excellence
We bring over 25 years of expertise and innovation creating mice of various sizes and shapes that provide an extra degree of comfort. Our solutions are meticulously crafted to fit right- or left-handed users, making it easier to find the product that's right for you.
A DESIGN CHOICE YOU'LL FEEL GOOD ABOUT
Carbon is the new calorie
CARBON CLARITY

We believe everyone should know what they're consuming. The carbon footprint of this product is 3.97 kg CO2e. We're working hard to reduce it, and we have offset our residual carbon impact to zero by supporting forestry, renewables and climate-impacted communities.
FIND THE PRODUCTS THAT ARE RIGHT FOR YOU
Description
Size
Rubber grip for added comfort
Power
Scrolling
Connectivity
Tracking
Tilt Wheel
Multi-device
Programmable buttons
SilentTouch Technology
Compatibility
Extra comfort and precision with SilentTouch
Compact
Yes
18 months
Line-by-Line scrolling wheel
USB Wireless
High Precision Optical Tracking
No
No
Yes
Windows, macOS, ChromeOS, Linux
Modern, Silent & Beautiful
Ultra Portable
No
18 months
Line-by-Line scrolling wheel
Bluetooth & USB Unifying
High Precision Optical Tracking, adjustable DPI
No
Yes - Easy-Switch
Yes
Windows, macOS, iPadOS, ChromeOS, Linux, Android
Recommended products for you