Pangea temporary hotfixes here
K580 Slim Multi-Device Wireless Keyboard
Ultra-slim, compact, and quiet keyboard for computers, phones or tablets
K580 Slim Multi-Device Wireless Keyboard
Ultra-slim, compact, and quiet keyboard for computers, phones or tablets
Dimensions
USB Receiver
Height: 14.4 mm
Width: 18.7 mm
Depth: 6.1 mm
Weight: 2 g
Keyboard Dimensions
Height: 143.9 mm
Width: 373.5 mm
Depth: 21.3 mm
Weight (with batteries): 558 g (including battery)
Slot Dimensions
Height: 11 mm
Width: 175.7 mm
Depth: 10.3 mm - with a hook that holds the phone at 6.2 mm from the bottom
Technical Specifications
Battery life Keyboard: 24 months
Battery type: 2AAA (included)
Wireless technology: Logitech Unifying™ Receiver or Bluetooth® low energy technology
Unifying ready receiver: Yes
1-Year Limited Hardware Warranty
Rose English :

920-011329

Graphite English :

920-009212

Off-white English :

920-009213
Unifying™ Receiver
Requires an available USB port
Windows® 10,11 or later
macOS 10.15 or later
Bluetooth Low Energy Wireless Technology
Required : Bluetooth Low Energy
Internet connection (for recommended Logi Options+ software download)
Keyboard
2 AAA batteries (pre-installed)
Unifying USB receiver
User documentation
OWN. YOUR. SPACE
Make any space modern, and multi-device with the K580 Slim Multi-Device – an ultra-thin and design-forward keyboard perfect for typing your ideas on your computer and switching to writing a text on your smartphone. The ideal companion for your everyday multitasking.
MODERN, SLIM DESIGN
Get a clean, modern desk setup and make a visual statement thanks to the ultra-slim profile and minimalist design of the K580 Slim Multi-Device.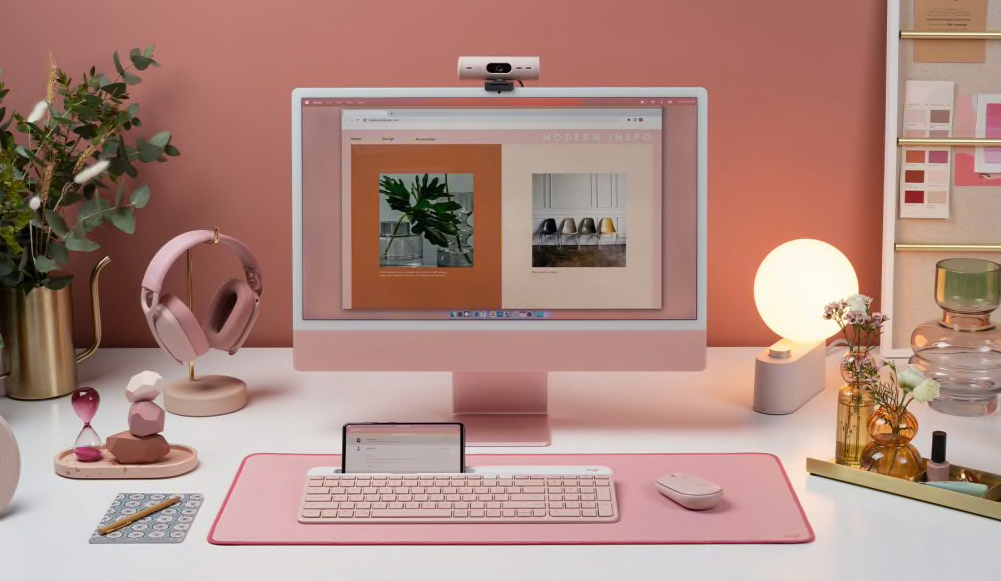 MAXIMIZE YOUR SPACE.
The compact design helps you get the most out of your workspace. With a number pad and all the keys you need for great productivity right at hand, there's less arm extension, so you can work comfortably for longer. 12 FN keys for easy access and media shortcuts. Boost your productivity by customizing your experience with Logi Options+ Software.
WORK SEAMLESSLY WITH EASY-SWITCH™
A computer keyboard that also works with your smartphone and your tablet. The Easy Switch buttons let you switch typing between two devices with the same keyboard.
Start typing a report on your computer, then switch to type a message on your phone — which can be placed in the built-in phone cradle for better multitasking.
WHISPER-QUIET, FLUID, COMFORTABLE LAPTOP-LIKE TYPING
Low-profile key switches provide fluid laptop-style typing and ultra-quiet work experience for you and those around you.
FAMILIAR TYPING WITH ANY OS
Use it to type on your multiple devices — desktops, laptops, tablets, and smartphones. The layout is compatible with Windows, macOS and tablet commands.
COMPLETE WITH AUDIO AND VIDEO
Great video and audio go a long way in boosting communication in virtual meetings and presentations. Add a modern webcam and headset to complete your work-from-home setup, Choose matching colorways or mix and match!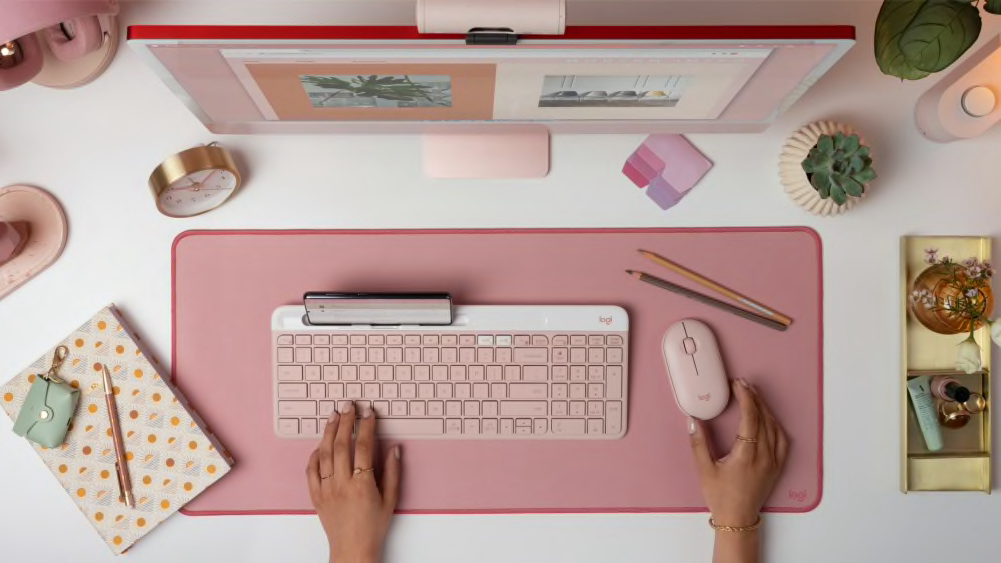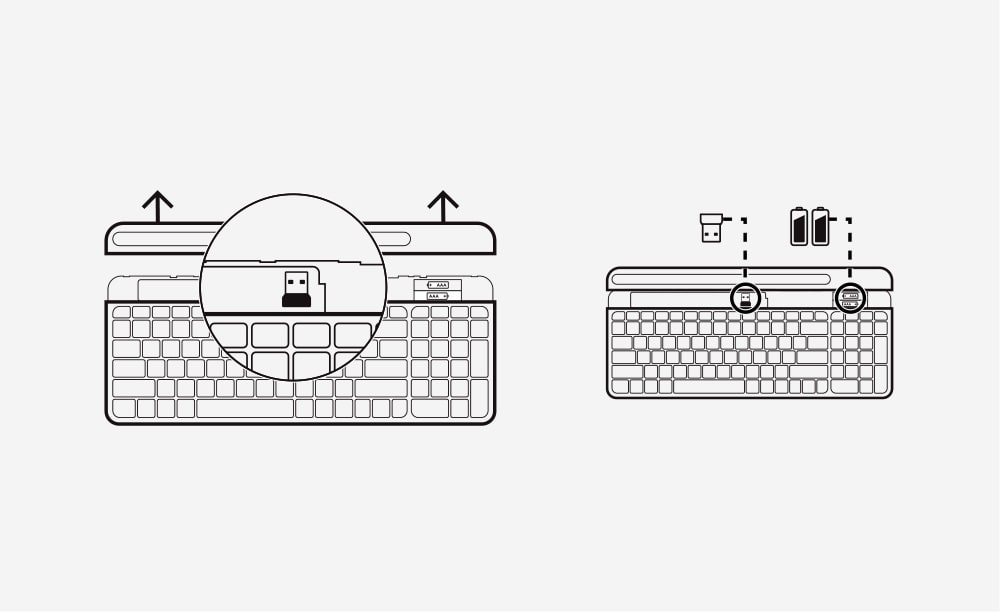 Remove keyboard battery door
Slide the upper part of the keyboard up to find the batteries and receiver storage inside.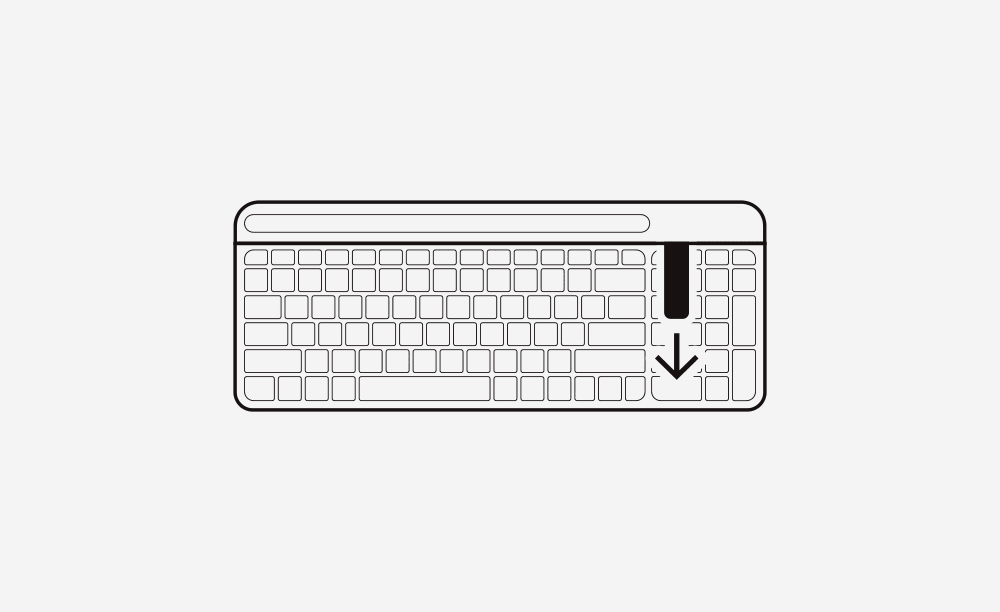 Remove Pull-Tab
First, pull the tab from your keyboard. Your keyboard will automatically turn on. Channel 1 will be ready to pair via either the USB receiver or via Bluetooth.
STEPS USB RECEIVER CONNECTION-A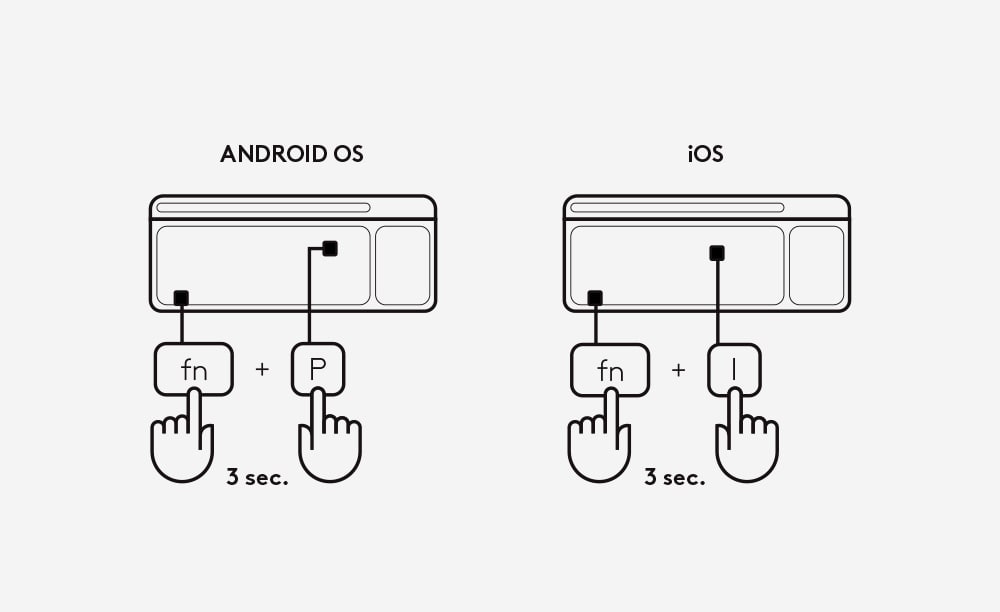 Choose Operating System layout before plugging the receiver
Windows is the default layout. To switch to the macOS layout on your keyboard, before plugging the receiver to your computer, press FN and "O" keys simultaneously and hold for 3 seconds. The OS layout will be selected after 3 seconds. To switch back to Windows layout, long press the FN and "P" keys simultaneously for 3 seconds.
STEPS USB RECEIVER CONNECTION-B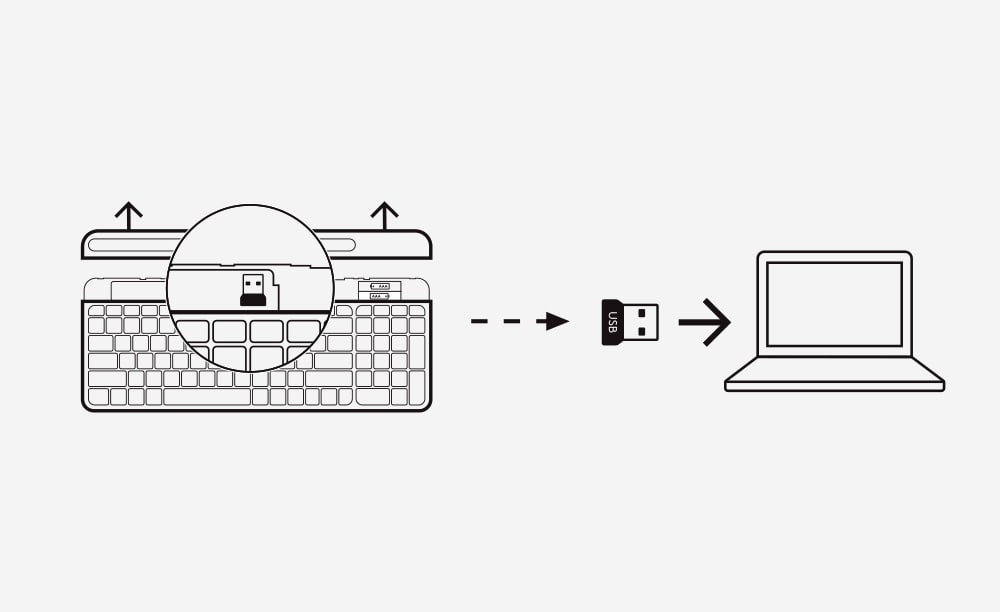 Connect via the USB receiver
After setting the corresponding layout on your keyboard, get the USB Unifying receiver from the compartment inside the battery door. Insert the receiver into any available USB port on your desktop or laptop. Once the USB is inserted, your keyboard will be ready to use.
STEPS BLUETOOTH CONNECTION-A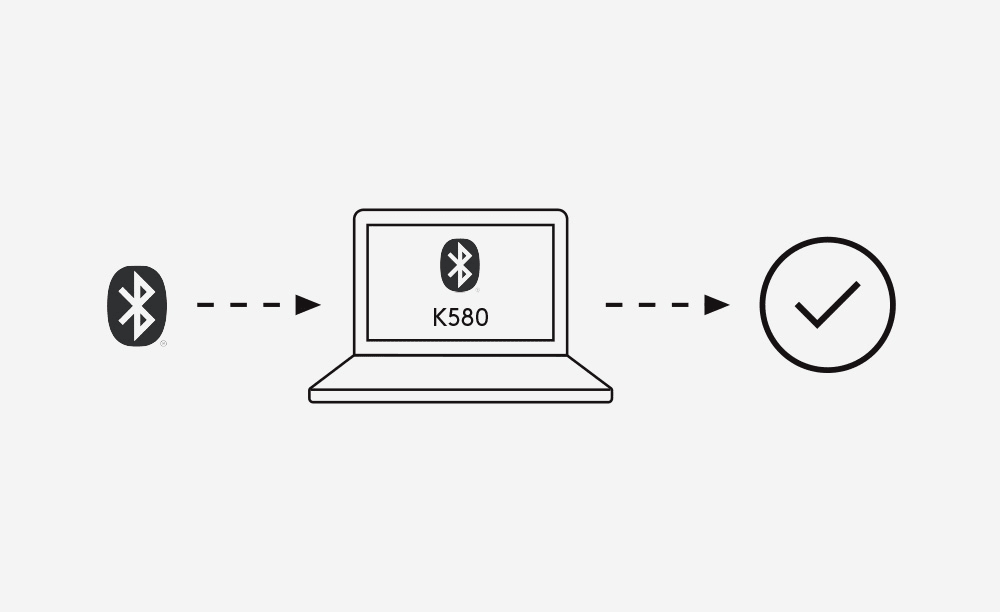 Connect via Bluetooth
Open the Bluetooth preferences on your device. Add a new peripheral by selecting "Logi K580 Keyboard." A code will appear onscreen. On your keyboard, type the code provided, and your keyboard will be ready to use. The keyboard layout will automatically adapt to the device you connect it to when using Bluetooth connection.
STEPS MULTI-DEVICES: EASY-SWITCH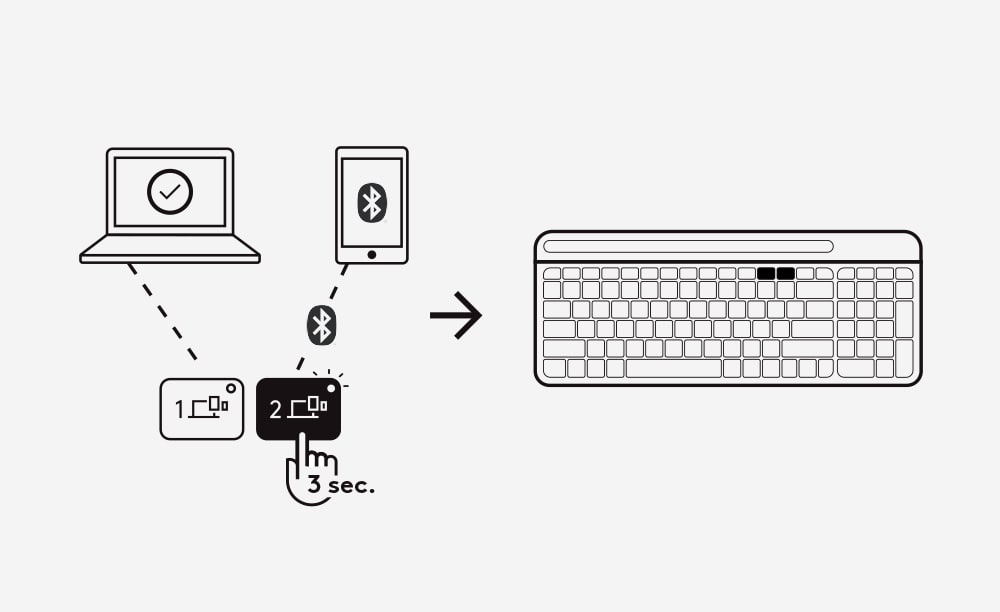 Pair the keyboard with a second device
Long press for 3 seconds the Easy-Switch key - Channel 2. When the LED starts blinking the second channel will be ready to pair through a Bluetooth connection. To discover how to connect the keyboard via Bluetooth see previous connection steps.
STEPS:MULTI-DEVICES: EASY-SWITCH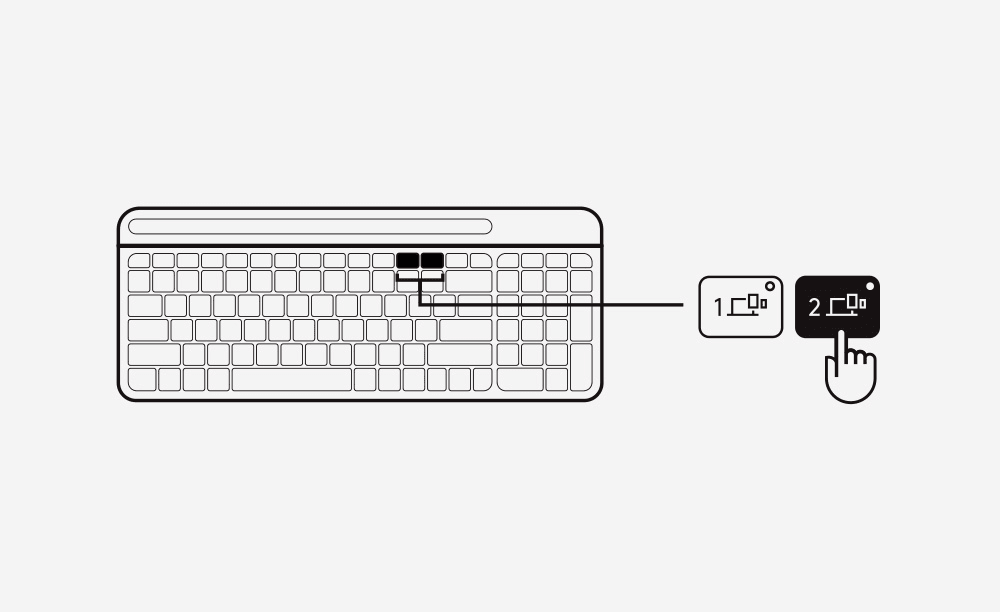 Toggle between devices
Simply short press either channel 1 or 2 to switch typing on your devices.
STEPS BLUETOOTH CONNECTION-B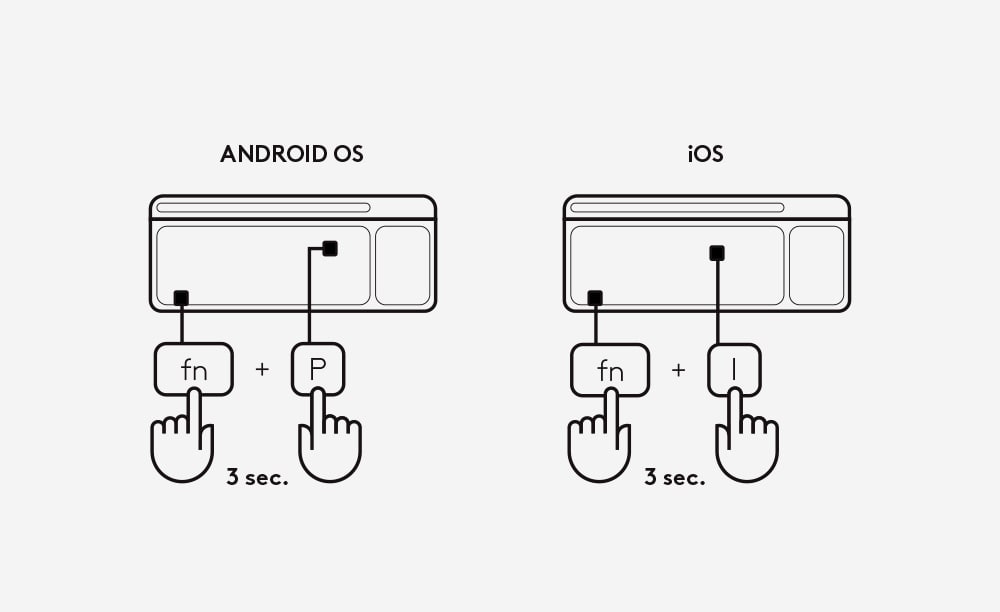 Select a specific OS Layout
To switch to other layouts long press for 3 seconds:
FN and "P" keys for Windows/Android
FN and "O" keys for Mac
FN and "I" keys for iOS
The LED on the channel 1 key will light up to show that the OS has been successfully changed.

RECOMMENDED PRODUCTS FOR YOU