Pangea temporary hotfixes here
ARTICLE
How IT is Evolving to Support a Hybrid Workforce
Enabling Video Collaboration is the New Priority
Early in the global pandemic, it was clear that the work environment for many people would be very different for some time, maybe indefinitely. Though far from over, the pandemic is receding in places and a new sense of normal is taking shape. But what does this new normal mean for IT? How will IT evolve to support employees in the new hybrid workplace?
For IT, Agility is a Strength – Even More than in the Past
To meet the demands of a hybrid workplace, IT will need to become even more agile and responsive to support rapidly evolving business needs. IT admins need to react quickly to situations that are beyond their control and that may change rapidly from day to day, or hour to hour.
While becoming adept at working remotely themselves, IT staff will likely field many more questions from employees who rely on technology (employer-provided and personal) to do their job. To stay ahead of that curve, IT leaders should become proactive about technology deployment and training to support a mix of office and remote workers.
Supporting the Hybrid Workforce
On any given day in a hybrid workplace, some employees will be in the office and some will be working remotely. The mix is fluid, with employees continuously transitioning between a work office and a home office.

To be effective, a hybrid workforce needs to stay connected to systems, applications, and especially each other, no matter where any one person on the team may be. Collaboration is now mission-critical, and largely virtual.
In this environment video conferencing is becoming the default way people meet. By 2024 in fact, only 25% of business meetings will take place in person.Gartner Says "Worldwide End-User Spending on Cloud-Based Web Conferencing Solutions Will Grow Nearly 25% in 2020," June 2, 2020. https://www.gartner.com/en/newsroom/press-releases/2020-06-02-gartner-says-worldwide-end-user-spending-on-cloud-based-web-conferencing-solutions-will-grow-nearly-25-percent-in-2020. The video footprint in every organization is bound to continue growing as employees get more comfortable using it – and companies realize the cost savings of using video to replace in-person meetings.
And as the video footprint grows, people will find new ways to harness the power of video while working virtually. For example, an important part of collaboration is brainstorming using whiteboards. Traditionally this activity has taken place in person. Today's employees are discovering that with the right equipment, even whiteboarding can be handled effectively on video.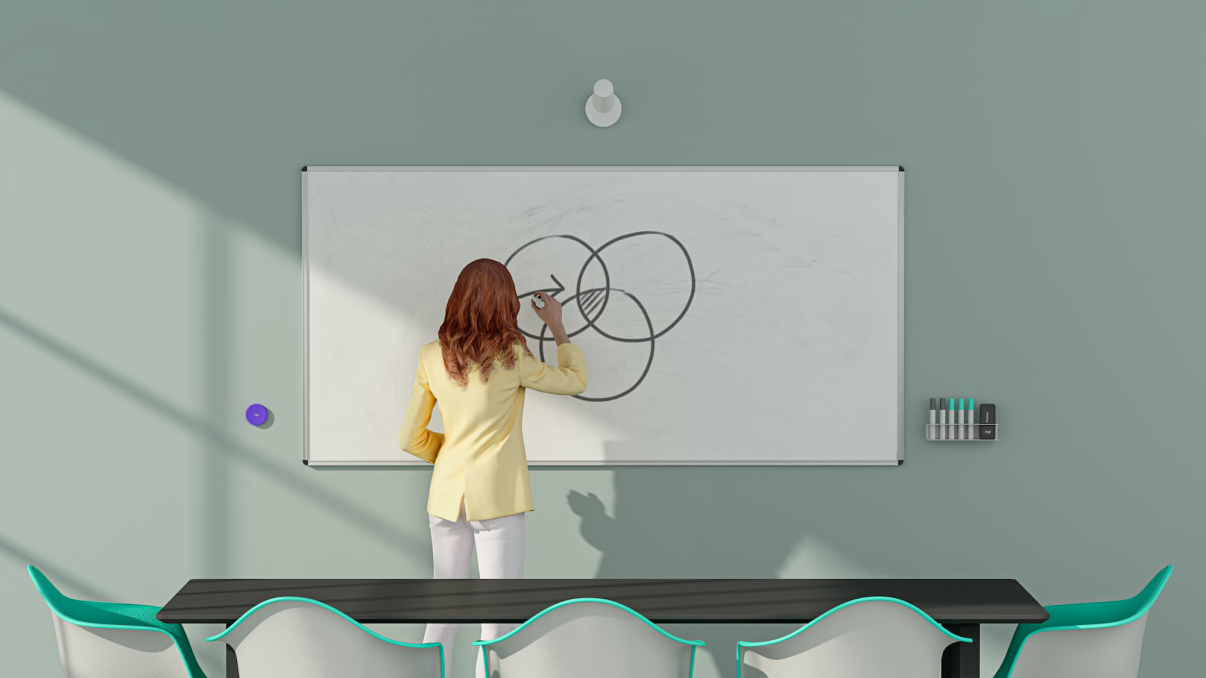 Enabling Video Everywhere
Because meetings in a hybrid workplace nearly always include a few people attending remotely, video conferencing must be up and running all the time. It's not just an inconvenience when video isn't available in a conference room. It's a show stopper.
With this in mind, IT leaders can take steps to ensure they're prepared. Priority must be given to video room solutions. Every room, no matter how small, should be video-enabled. Even private, one-on-one meetings will increasingly be handled by video. 

Given the large number of video meetings taking place, IT must automate and centralize the management of conference rooms and all the equipment they contain. Fortunately tools like Logitech Sync make it easy for IT to manage video conferencing devices from anywhere.
Realigning Budgets to Address Remote Work
In addition to acquiring more video room solutions, IT should prepare to increase budgets in other areas. For example, more employees will ask for purpose-built webcams and headsets for times when they're working remotely. 
When the pandemic lockdown seemed temporary, people made do with what they had. But as companies adopt a hybrid model and employees realize they may be working remotely on a permanent basis, they will need equipment designed for business collaboration and communication. 

IT may also need to budget for faster refresh cycles for laptops and other devices. Video places an increased demand on computer processing power, and older laptops may not perform adequately during video conferences.
Investing in Employee Productivity
When approaching budget discussions, it may be helpful to think about these additional requests and budget requirements the way you think about IT security. You invest in technology such as anti-malware and endpoint protection because the upfront costs are minimal compared to the consequences of a security breach.
Similarly, if you can prevent situations where employees are unproductive because they can't communicate effectively, it makes financial sense to do so. Just as employees need desktop tools such as laptops, monitors, and mice, in a hybrid workplace they also need personal collaboration tools like enterprise-grade headsets and webcams.
As people begin returning to the office, while others continue to work remotely, this is the time for IT leaders to prepare for a fluid work environment where video conferencing will only increase. Making the investment now will pay long-term dividends.
YOU MAY ALSO BE INTERESTED IN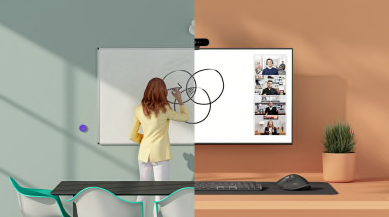 How to Add Whiteboarding to Video Meetings
How can IT support collaboration in a hybrid workplace? Learn how a whiteboard camera like Logitech Scribe can bring virtual whiteboarding into video meetings.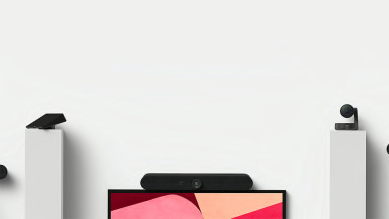 EBOOK: DEPLOYING & MANAGING VIDEO CONFERENCING IN MEETING ROOMS
Check out the five key criteria that IT teams should consider when evaluating video conferencing systems and room solutions for deployment at scale
ARTICLE: TAMING INFRASTRUCTURE SPRAWL IN THE MEETING ROOM
The number of video conferencing devices & meeting spaces in the enterprise has exploded. Learn how you can efficiently deploy, scale and manage room solutions.
VIDEO CONFERENCING FOR EVERY SPACE
Find out more about how Logitech video conferencing products perform in a business environment.