Pangea temporary hotfixes here
Purpose-built for gaming, the Logitech G Litra Beam desktop LED key light with TrueSoft technology makes it easy to direct light where you want it for pro-level lighting effects. Logitech G's TrueSoft technology delivers balanced, full-spectrum LED light with cinematic color accuracy for a next-level look your audience can feel.
Dimensions
Litra Beam Light
Height: 400 mm
Width: 30 mm
Depth: 30 mm
Weight: 185 g
Arm
Extended: 61.5 cm
Collapsed: 37 cm
Weight: 236 g
Base
Diameter: 150 mm
Height: 16 mm
Weight: 657 g
Cable
Length: 2 m USB-C to USB-A cable
Technical Specifications
93 CRI with a high R9 value for brilliant skin tones
Color temperature range: From a candlelight 2700K to a cool blue 6500K
Innovative desktop mount with height, tilt and rotation (remove to reveal ¼ 20 threads for mounting on a standard tripod)
Software control through G HUB
2-Year Limited Hardware Warranty
USB 3.1 gen 2 port or 5V 1.4A USB power adapter for max brightness
Litra Beam Light
Innovative Desktop Mount
USB C to USB A cable
Other Documentation
The Ultimate

Streaming Solution

Transform your desktop into a streaming studio with the Blue Sona broadcast XLR microphone and StreamCam premium HD webcam.
Natural Skin Tones, Radiant Look
Logitech's TrueSoft technology delivers balanced full-spectrum LED light with cinematic color accuracy for a natural, radiant look across all skin tones.
Litra Beam is packed with features that make it easier than ever to achieve professional lighting effects in any space. Its slim, elegant design can snuggle up to your monitor and fit into your desktop in ways other lights can't. Built-in cable management in the base keeps your setup looking sleek. And three ¼-20 thread fittings allow you to attach Litra Beam to its desktop stand in multiple ways to achieve your desired lighting setup.
Infinite Creative Possibilities
Litra Beam light for content creation features an innovative beam design that gives you the power to shape and direct light in unique ways to illuminate your story. Here are some ways you can add mood and expression to your streams:
Also known as flat lighting, front lighting is one of the most popular professional lighting techniques and is perfect for vlogs, IRL streams, gaming, tutorials and more. You can achieve this by simply placing a single light horizontally above your monitor directly facing you straight on—keeping everything as centered as possible. The result is a youthful, well-lit look with no shadows across your face.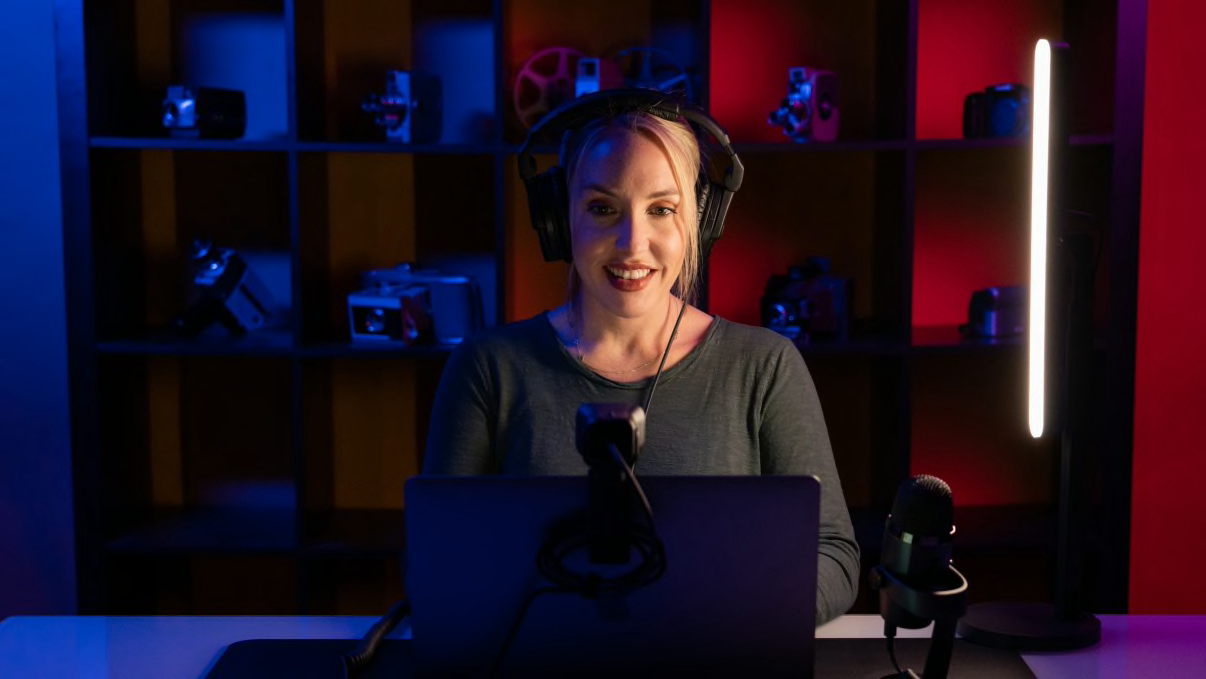 Looking to add drama to your video or stream? Then split lighting is for you. Move a single light off to one side of your setup to increase the contrast across your face as well as accentuate details and textures. This technique is perfect for more intense scenes like epic game streams and stylized comedy or music videos.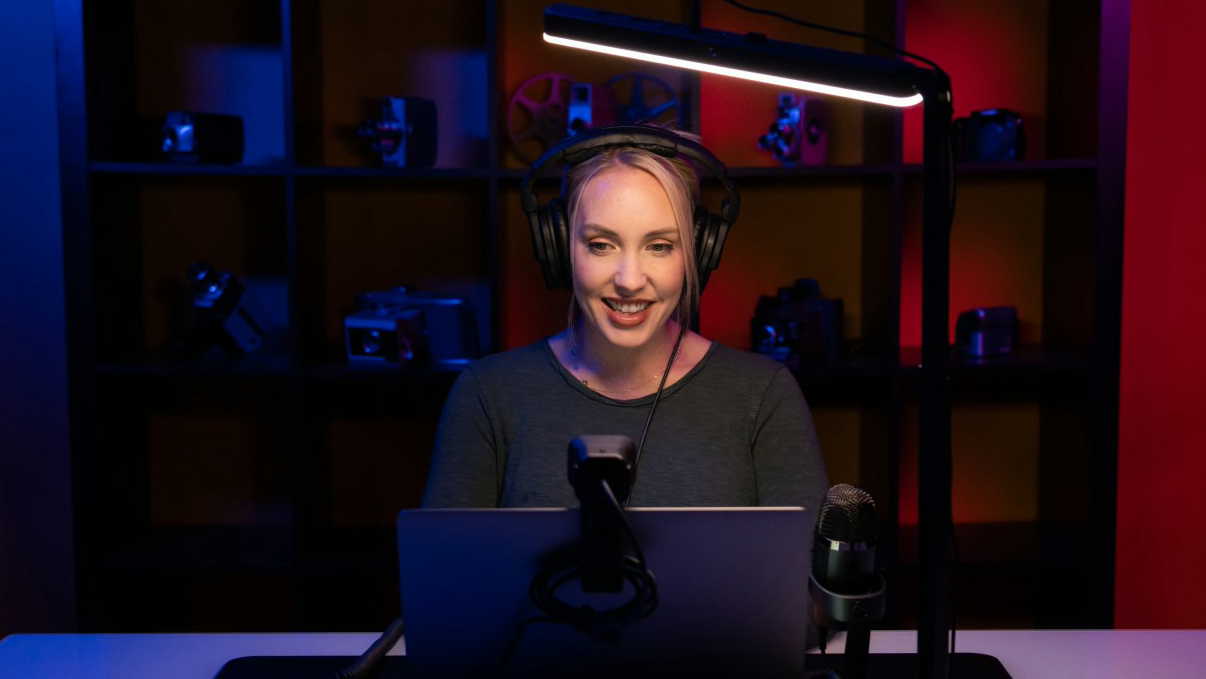 Butterfly lighting, also known as Paramount lighting, is perfect for amping up the glamor of your content. Start with Litra Beam above your monitor, then raise and tilt the light so your face is lit at a downward angle. This creates the classic butterfly shape below the nose, and accentuates cheekbones and lip shapes. Try out this lighting technique for beauty tutorials, product reviews and more.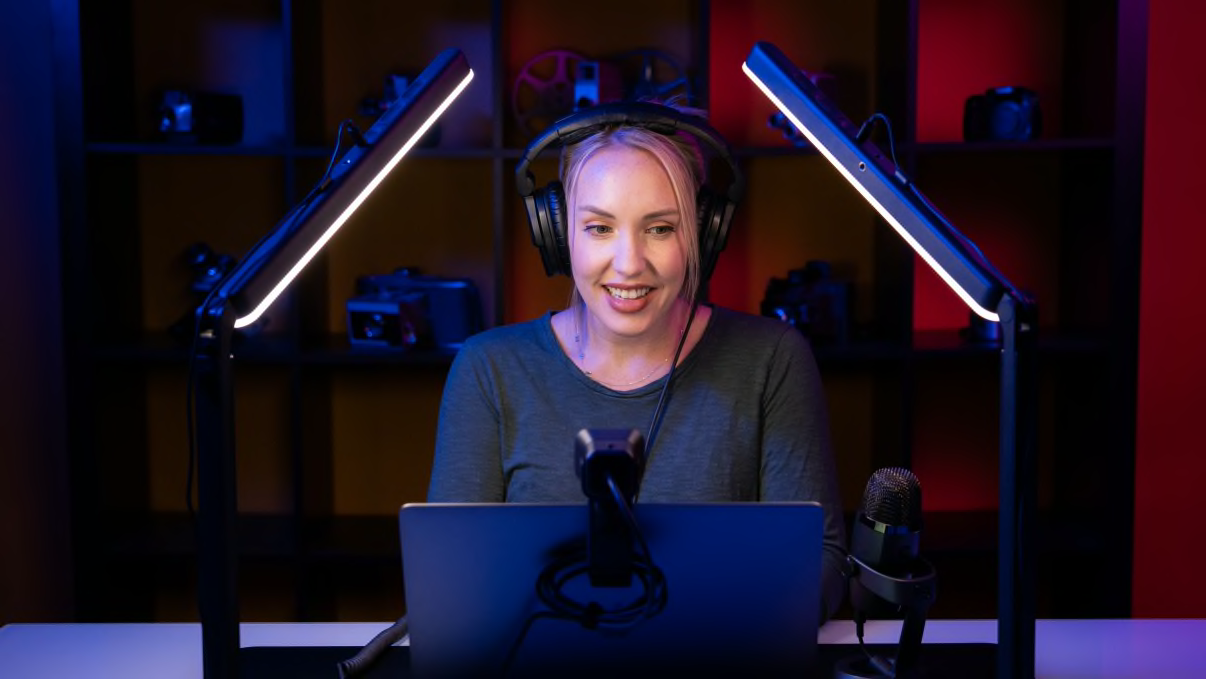 Rembrandt lighting is a more sophisticated technique for adding mood, dimension and drama to your streams. Set up two Litra Beams on either side of your monitor. Then adjust the height and tilt of the lights until you see the signature triangle of light under your eyes—vary the brightness and color temp of each light to dial in more drama. Try out Rembrandt lighting for video podcasts, documentary-style interviews, episodic video shorts and more.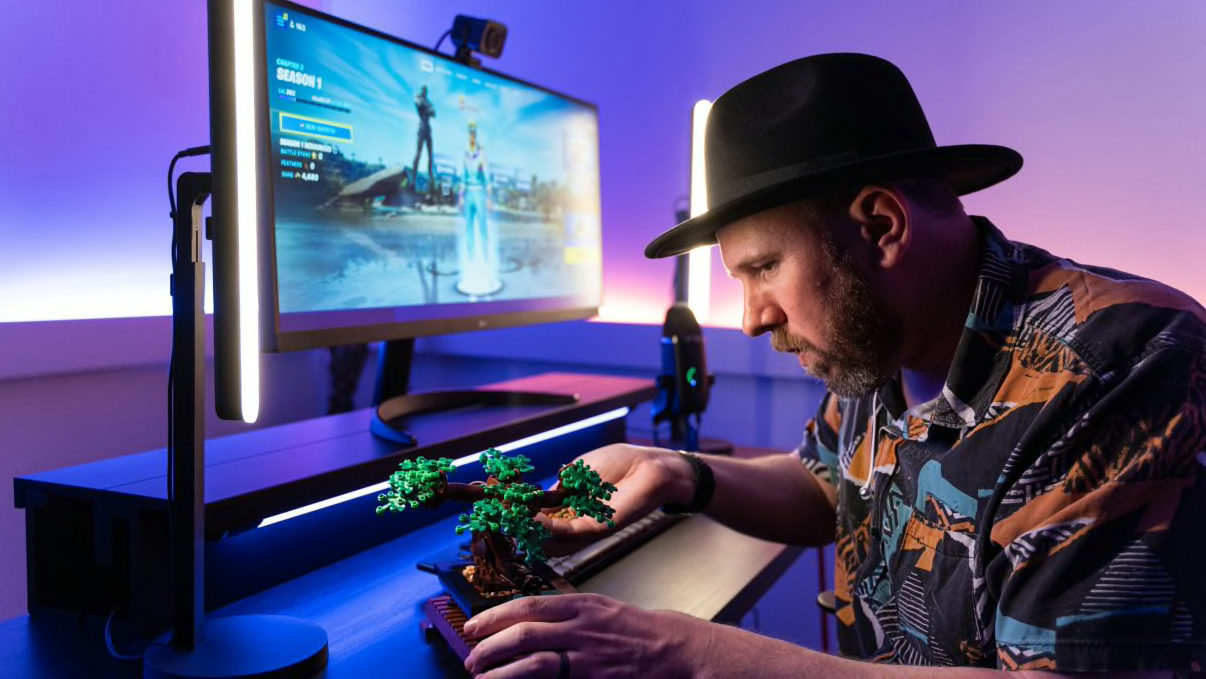 Safe For All-Day Streaming
Litra Beam has cleared even the strictest testing guidelines to ensure safe all-day streaming.2 So, whether you're creating a new video for YouTube or kicking off a marathon streaming session, Litra Beam helps you stay comfortable and confident on-camera—all day long.
Fine-Tune Your Look On Camera
Litra Beam features 5 brightness and 5 color temperature settings (2700K–6500K) to dial in the look you want. Or, you can hold down the buttons for continuous, stepless adjustment.
Quick Access To Your Favorite Settings
Download Logitech's free G HUB desktop app and connect via USB or Bluetooth to control brightness and color temperature, save presets, turn light on/off and more right from your desktop. And, if you have a Logitech G keyboard or mouse, you can use G-Keys to easily turn your light on/off, change brightness and color temperature and more.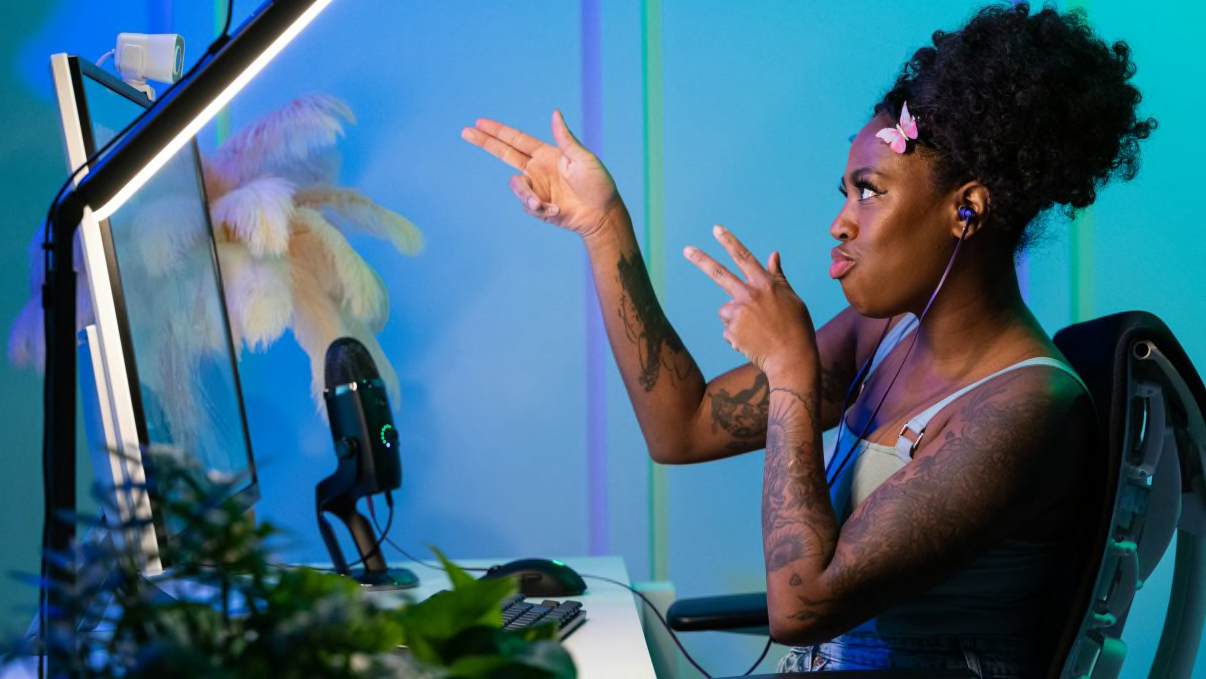 Logitech TrueSoft Technology
TrueSoft was designed to solve common challenges for today's content creators including quality of light, harsh shadows and eye fatigue from long hours of streaming. Logitech Consumer Insights study, July 2021 study. Litra Beam was purpose-built for streaming and uses TrueSoft technology to wrap the subject in soft and diffused, accurate LED light that is gentle on the eyes for all-day professional content creation.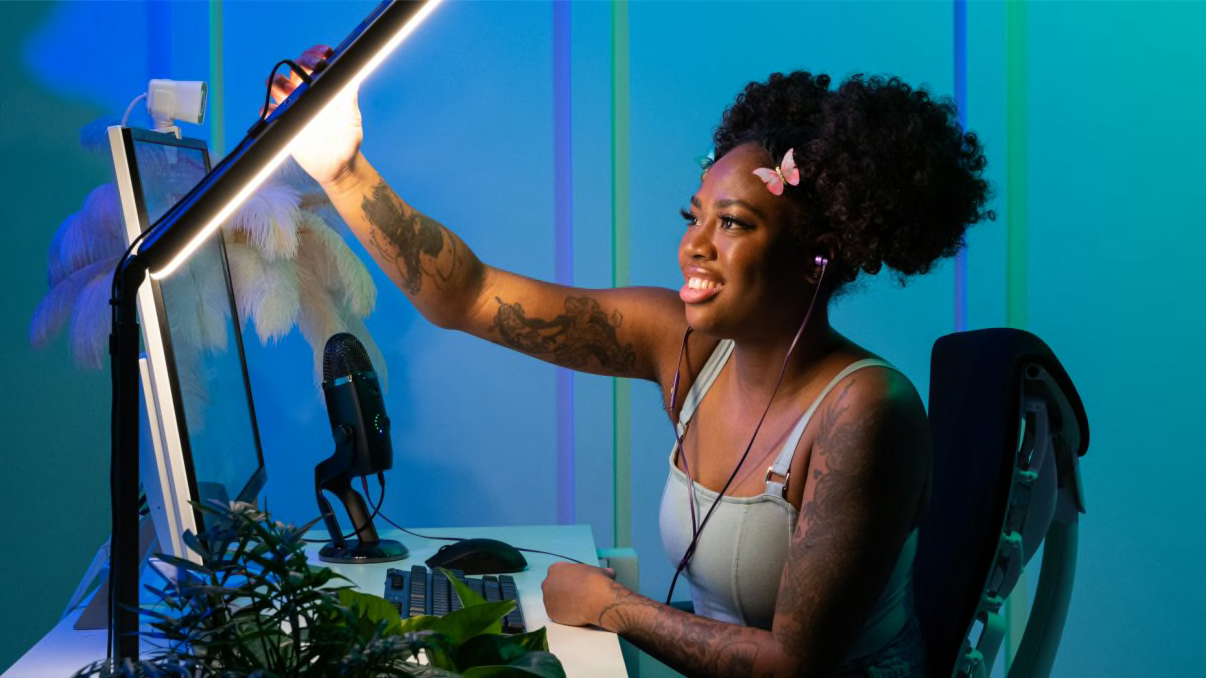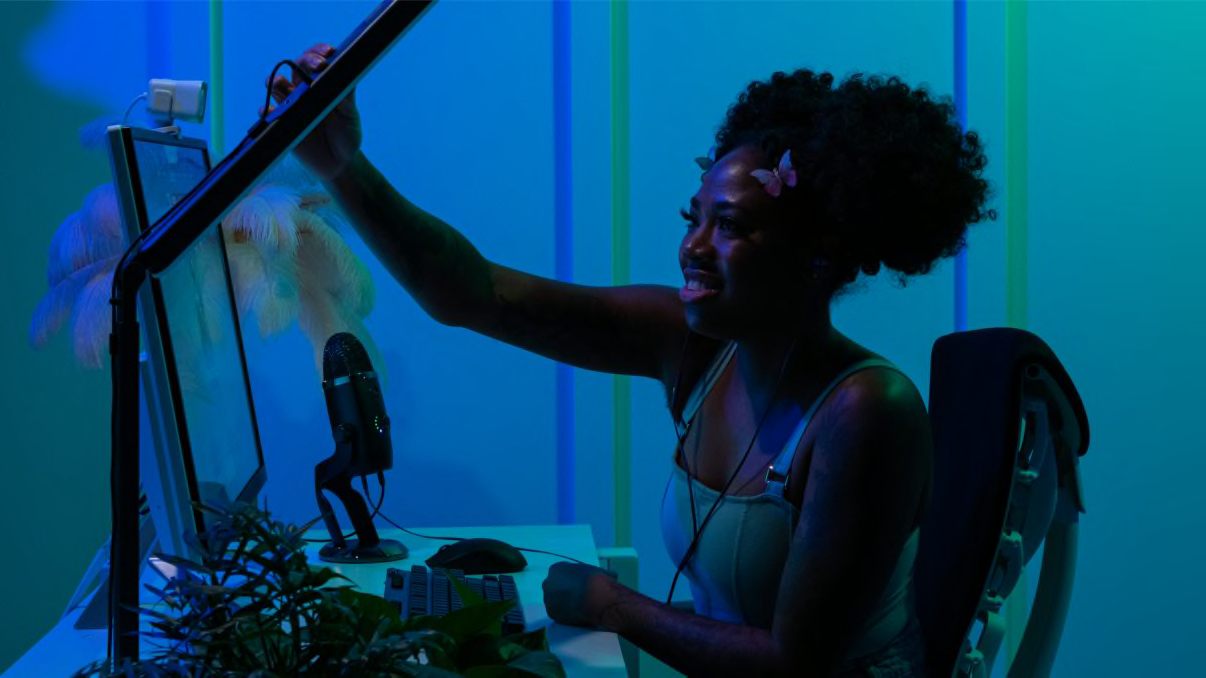 Litra Beam is unlike any other light you've seen. It features a proprietary precision optics lens with innovative geometry that pairs beautifully with the frameless diffuser to deliver soft, glare-free light without sharp edges, harsh shadows, hot spots or falloff.
Filmmakers know that accurate lighting is a critical component of professional video production.videomaker.com And, looking your best is all about the natural radiance of your skin tones. TrueSoft was created to illuminate your face with uncompromising accuracy to make sure your content is the best representation of you. As measured by Color Rendering Index (CRI), TrueSoft achieves best-in-class CRI to produce cinema-quality light that's daylight-balanced and renders perfectly on camera.
Beyond The Desktop With Bluetooth
For even more creative lighting options, power Litra Beam from an AC outlet and control the light from the app on your computer via Bluetooth.
THE LITRA FAMILY
Description
Light Shape
Lens Technology
Mounting
Additional Mounting Options
Connectivity
Controls
Color Temperature Range
Color Temperature Control
Brightness
Brightness Control
Software Control
Certified For All-Day Streaming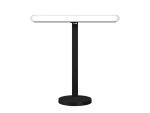 Premium LED Streaming Key Light
Beam
Precision optics lens
3-way adjustable desktop stand
3 ¼-20 mounts for maximum flexibility
USB + Bluetooth
Power, brightness and color temperature
2700K–6500K
5 presets or press and hold
320 lumen optimized for streaming
5 presets or press and hold
Logitech G HUB with presets
Yes
Premium LED Streaming Light
Panel
Precision optics lens
3-way adjustable monitor mount
1 ¼-20 mount
USB
Power, brightness and color temperature
2700K–6500K
5 presets or press and hold
250 lumen optimized for streaming
5 presets or press and hold
Logitech G HUB with presets
Yes