Pangea temporary hotfixes here
How IT Pros Optimize Hybrid And Home Offices
Elevating employee productivity in the next wave of work.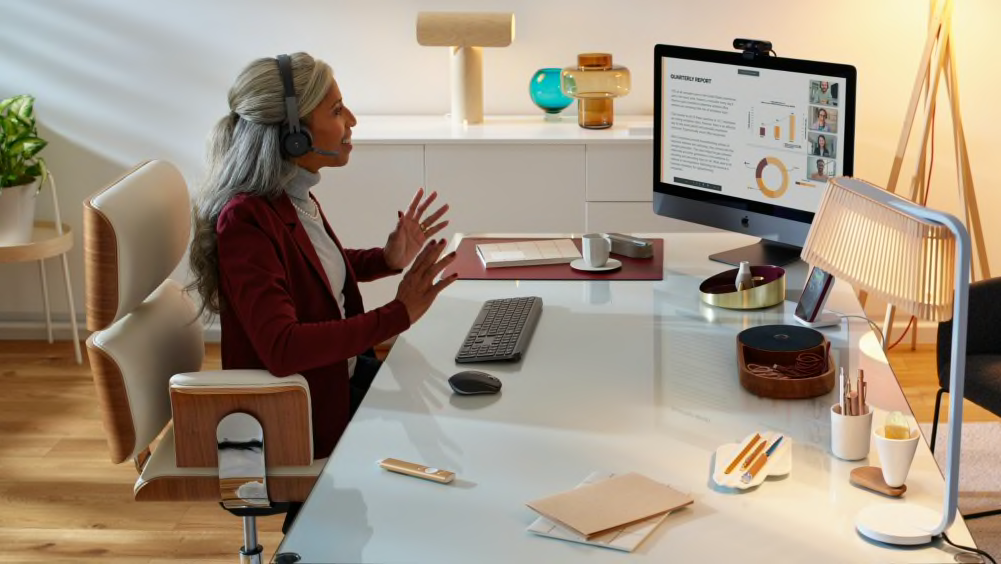 We've officially entered work-from-anywhere 2.0. The mindset that working from home may be temporary has passed. Distributed teams are a reality. Employees have set up their home offices, and facilities managers have adapted the traditional office to accommodate. 
All done? Not quite.
Here are three ways IT leaders can optimize these changed office spaces and elevate employee productivity in the next wave of work.
Streamline and declutter through strategic consolidation
Many hybrid offices have a difficult time integrating collaboration solutions from multiple vendors.Forbes, "The secret to a successful hybrid office," October 2021 As IT teams respond and pare down their vendor lists, they can guide employees to do the same. Is everything in the office helping build a better workflow?
 
Work-from-anywhere 2.0 strategies
Select hardware that's optimized to work with videoconferencing software from a range of vendors.
 
Find unnecessary hardware duplications that hog desktop real estate and replace with OEM-agnostic mice and keyboard combos.
 
Save USB port space and help bolster security features with FIPS-secure, wireless peripheral devices that connect to a single USB receiver.
 
Tidy up and protect investments with headset holders, smaller tablet stands, or all-in-one docking stations that simplify home office setups.
 
Double up duties with tablet stands and wireless charging pads that can power devices while still in use.


Try this first: Team up IT, HR, and others to define opportunities.
Cost is top of mind when choosing hardware. But in a hybrid work world, more internal decision makers than ever before have a vested interest in ensuring everyone's office setup is humming.
That's because the role of technology in keeping employees engaged is growing — and because turnover is expensive. The cost of replacing an individual employee can be up to two times the employee's annual salary.Gallup, "This fixable problem costs U.S. businesses $1 trillion," March 2019
Facilities, operations, IT, and HR teams all have a stake in maintaining positive employee experiences with technology. These cross-functional groups can work together to conduct internal research to determine which technology is causing the most strain or disruption — and which is building employee satisfaction and loyalty. The data gathered can inform decisions and future budget considerations.
Make personalization a matter of tactics, not just tastes
Personalizing hardware with color or style options is great, but IT leaders should now consider how hardware customizations contribute to important organizational initiatives like inclusivity, sustainability, and team-specific productivity.
Health is also an important consideration in this. Ergonomic users are loyal ones: nine out of 10 people who turn to ergonomic mice and keyboards never return to conventional devices.Logi Ergo Lab research That's a huge clue to the staying power of comfort. Not to mention, employee tech satisfaction frees up IT to focus on higher-value work.
 
Work-from-anywhere 2.0 strategies
Look for device peripherals designed to accommodate specific work functions, like coding or creative development, such as the MX Master Series with seamless cross-computer control.
 
Consider solutions that leverage sustainable design practices and are inclusive of any work style, like keyboards with preferred typing layouts or business-ready mice engineered for comfort.
 
Find opportunities to speed up digital processes through peripheral software with advanced presets for app-specific performance.
 
Try this first: Get to know ergonomics even better than you do now.
Heavy computer users perform 3 million keystrokes and move their mouse up to 17 miles (27 km) each year.Logi Ergo Lab research It's no wonder our bodies are, at best, tired. You probably know ergonomics causes less physical damage from all this extensive computer time, but do you know how?
Consider the mouse. When using a standard mouse, people tend to bend their hand up at the wrist, and the wrist tends to press on the table — both of these things can contribute to pressure on the wrist's carpal tunnel area.
An ergonomically designed mouse will help straighten the wrist and lift it off the table (or at least ensure it's not pressing on a hard surface). This puts the hand in a more natural, relaxed position, which can reduce muscular strain.
Well-being at work, or lack thereof, affects employee retention. "Well-being not supported by the company" was among the top five reasons why U.S. employees left their jobs in 2021.Limeade, Employee Care Report — The Great Resignation Update
Create a framework for proactive IT management
Hoteling will be a prominent feature in the future of work. A recent survey found that 31 percent of employers were considering a hoteling model,Survey by global employment law firm Littler Mendelson, 2021 in which employees in the office can work anywhere with a charging station instead of an assigned workstation.
If the tech in that station doesn't work, chances are they'll just move rather than alert IT to fix the issue. Same goes for conference room spaces.
A proactive IT management model is key to preventing compounding issues and unnecessary disruptions in a hybrid environment with fluid workspaces.


Work-from-anywhere 2.0 strategies
Help employees work productively and comfortably by having them bring the tech, like MX Master mouse and keyboard combos, made for mobile workflows.
 
Monitor and manage meeting room devices from a single platform.
 
Look for best-in-class battery lifetime and USB-C charging cables so peripherals can be used while charging.
 
Prioritize plug-and-play hardware that minimizes help desk requests during deployment, as well as peripheral collections that help reduce strain on leadership since 61 percent of employees in a supervisory role say they spend more time than they'd like getting technology to work.PwC Consumer Intelligence Series, October 2018
 
That's a missed opportunity. Onboarding is a chance to make a great first impression on a skeptical general workforce. Leverage this initial stage of an employee's journey as a chance to introduce a digital strategy optimized for hybrid work.
A good onboarding experience pays dividends in the long run. Research shows that employees who have an effective onboarding experience were more than 29 times more likely to feel satisfied with their jobs.BambooHR, Onboarding Research Survey raw data, 2018
Maximize productivity with science-backed peripherals
Logitech mice and keyboards are designed to help people feel better at work and support IT's office optimization efforts. All Logitech for Business products work with leading enterprise operating systems and business apps, making global deployment seamless.
Contact us today to discuss the best solution for your company.
Three milestones for better IT onboarding
In the face of pressure to retain talent, companies are treating new employees like new customers, giving them the best service and technology experiences available.
Download the checklist now for onboarding milestones that can keep your organization competitive.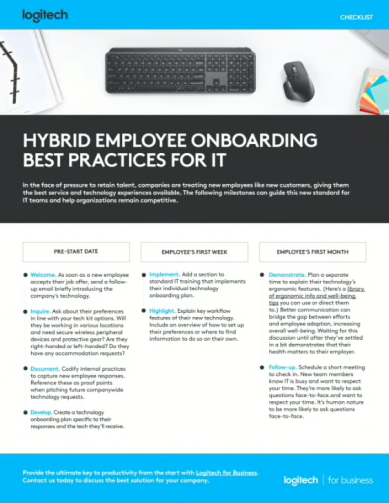 SUBSCRIBE TO OUR BUSINESS NEWSLETTER
THANK YOU FOR CONTACTING US
A product expert will reach out to you shortly.