Pangea temporary hotfixes here
ERGO COLLECTION
WORK BETTER. WORK HEALTHIER.
Perform at your best in a more relaxed, natural posture. This custom-designed kit includes ERGO K860 ergonomic split keyboard and MX Vertical ergonomic mouse built for all-day comfort.
ADVANCED ERGO SETUP
Ergonomic performance tools that allow you to feel better and work better—even from home. Ergonomist-approved and user tested, our devices—MX Vertical and ERGO K860—are scientifically proven to improve posture and reduce muscle fatigue, allowing you to work more comfortably—without compromising a pixel of performance.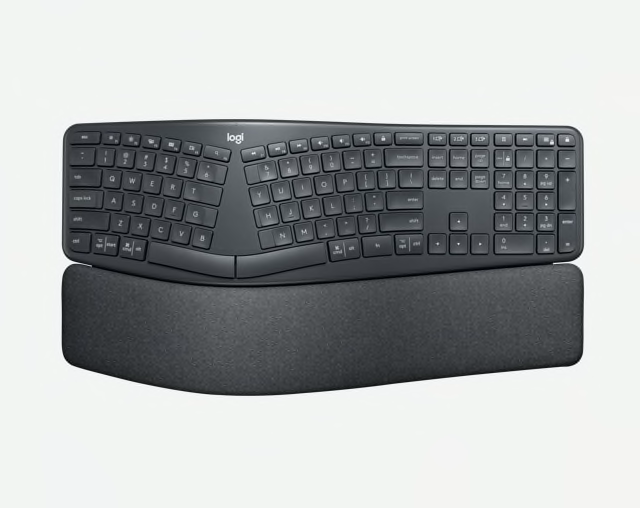 ERGO K860
Split ergonomic keyboard designed for better posture, less strain, and more wrist support.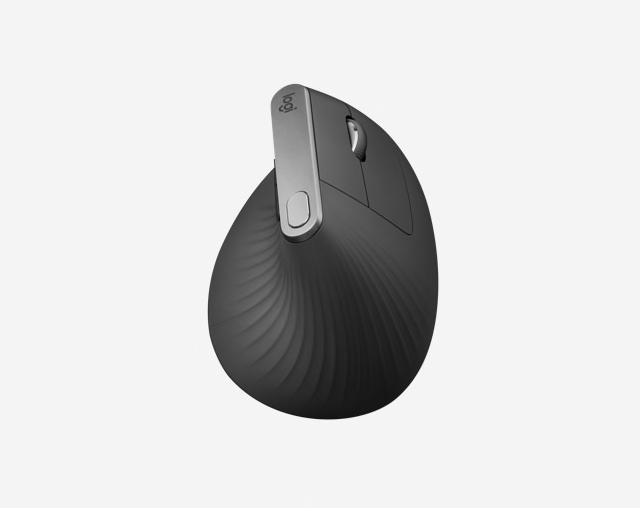 MX VERTICAL
Advanced ergonomic mouse that combines science-driven design with elevated performance.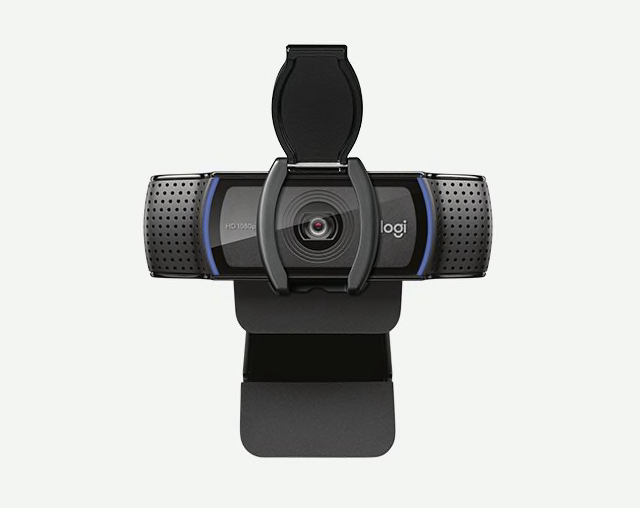 C920s
Be seen in remarkably crisp, full HD video—plus clear stereo sound.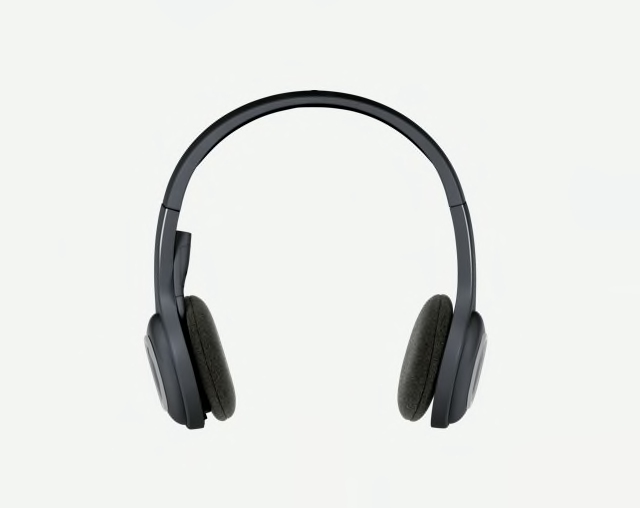 H600
Lightweight, long-range wireless headset lets you listen and chat up to 10 m.
Type naturally with ERGO K860
Type more naturally with ERGO K860—an advanced ergonomic keyboard that promotes a more relaxed typing posture, reducing wrist bending by 25%, and offering 54% more wrist support.Compared to a traditional Logitech keyboard without palm rest  The curved, split keyframe reduces muscle strain on your wrists and forearms, while the pillowed wrist rest offers comfort and the optimal ergonomic position.
PerfectStroke™ keys are crafted for precision and fluidity—plus an integrated numpad, multi-device capabilities, and two-year battery life ensure that you won't compromise performance for ergonomicsBattery life may vary based on user and computing conditions..
LESS PRESSURE. MORE COMFORT.
The natural handshake position of MX Vertical reduces wrist pressure and forearm strain with its unique "handshake" position—that's a 10% muscle-movement reduction compared to a traditional mouse. A 57° vertical angle is optimized for an ergonomic posture without compromising a pixel of performance.
The 4000 DPI high-precision sensor delivers 4x less hand movementAs compared with a traditional mouse with 1000 DPI sensor. A cursor speed switch lets you instantly adjust DPI speed and accuracy.
One full charge delivers four months of power, while a one-minute quick charge gets you three hoursBattery life may vary based on user and computing conditions .
LOOK GREAT. FEEL GREAT.
Add C920S Pro HD Webcam to your monitor so you can keep good posture during calls. C920S delivers remarkably crisp, clear and detailed images in vibrant colors, with HD autofocus and light correction that provides consistently high definition. Whether it's a key video call, a demo of your skills, or your nextYouTube video, C920S ensures you make a strong impression. Plus, the attachable privacy shutter protects the lens and keeps your privacy when you need it.
BETTER SOUND. FREE TO ROAM.
Cut loose from your PC and roam freely as you talk. The lightweight, long-range wireless headset gives you 10 meters of freedom, so you can get up, stretch, and work sustainably in a standing position. Laser-tuned speaker drivers and noise-cancelling microphone delivers clear calls and stereo sound. Adjustable headband and foam ear cups feel comfortable even after long hours of use.
ERGO COLLECTION
The tools you need to work comfortably and perform better.
EXPLORE ERGO COLLECTION
Make any workspace your comfort zone with the Compact Ergonomic Solution. It features a wireless trackball designed to keep your arm and shoulder relaxed and a minimalist keyboard that limits your arm reach.

MAKE YOUR WORKSTATION MORE COMFORTABLE
Start by adjusting your chair height so your elbows are flush with the table. Then adjust your armrest so your elbows can relax on it. Your shoulders / arms should be relaxed.


Make sure your knees are at close to a right angle, so that your thighs are horizontal and your feet are fully rested on the floor. If needed, use a footrest to relieve pressure on the back of your legs.


Position your screen at arm's length, and make sure the top of your screen is aligned with your eye level.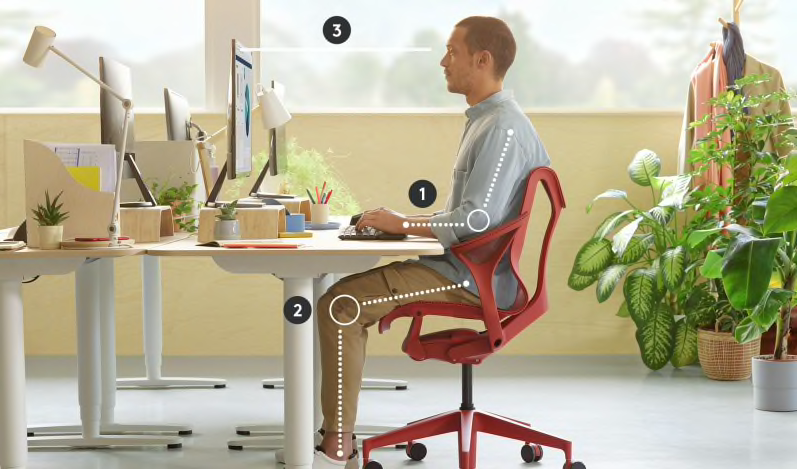 OPTIMIZE YOUR EXPERIENCE WITH ERGO K860
Place your Ergo K860 so that the split is aligned with the center of your body and the center of your screen.


Ergo K860's split design helps keep your wrists and forearms in a natural posture. Try to keep your wrists in a relaxed posture as you type and rest your wrists on the soft fabric palmrest.


Keep your mouse as close to Ergo K860 as possible. If you're using MX Vertical, increase the DPI settings to minimize hand movement. Ergo K860 features an adjustable palm lift to reduce wrist bending. You can switch between 0°, -4°, and -7° depending on your desk set up.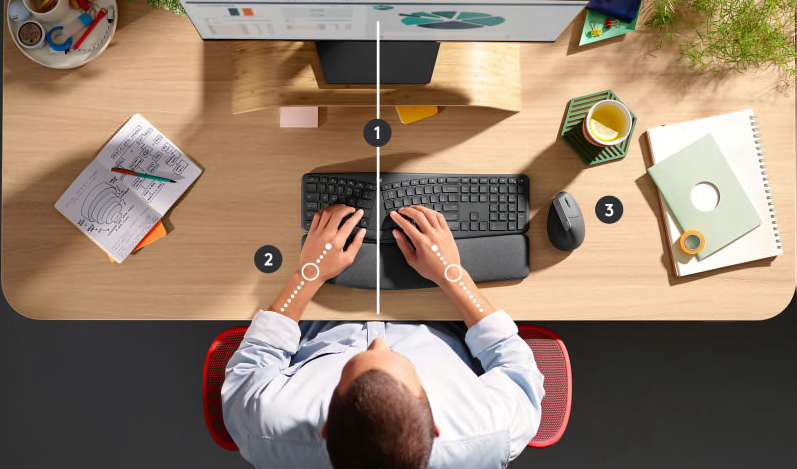 Step 1
Step 1
Wellness Tips
Practical tips and tools for feeling better at work – whether you're at the desk, at home, or on the go.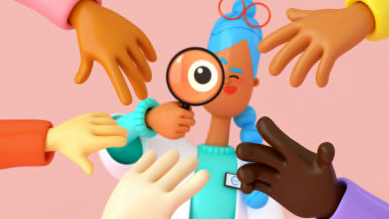 Find the Best-Fitting Mouse for Your Hand Size
Hands come in all sorts of shapes and sizes, so your mouse should be made for yours. Let's go through the checklist to find the perfect mouse.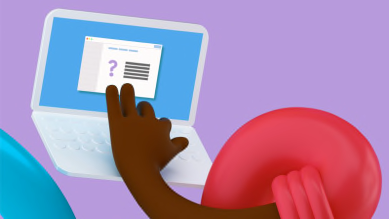 FAQ: Your Workspace Ergonomics Questions Answered
Learn more about workspace ergonomics in this handy summary of the most-asked questions, with answers and tips from the Logi Ergo Lab.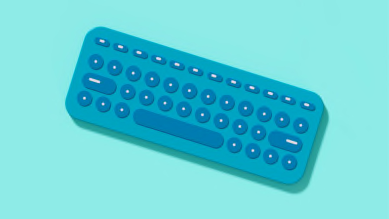 Could Less Be More For You? Try A Minimalist Keyboard
If you have a smaller stature and don't need a numpad, a minimalist keyboard could help you feel better and do better at work.