Pangea temporary hotfixes here
WELLNESS CHECK:
Do your workspaces
need an adjustment?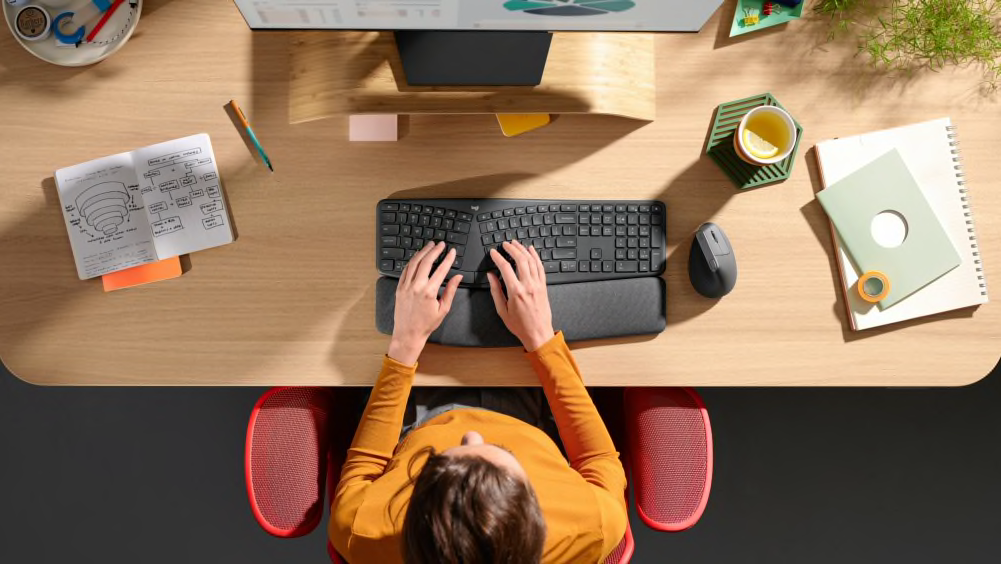 We're at a pivotal moment of workspace evolution. Companies have a chance to rethink their approach and properly equip the two workspaces that will characterize a new era of hybrid work – remote and in-office.
To get ahead, IT leaders should look back at changes that were made in the last few years.
Workspaces must support physical wellness
Many remote work setups were deployed as temporary solutions during the pandemic. Even with IT adjustments (such as providing basic commodity tools as office shutdowns extended), these workspaces likely weren't equipped for more permanent use and prolonged comfort.
Poorly equipped workspaces like these can increase muscle fatigue and discomfort, which negatively impacts employee focus, productivity, performance, and – increasingly valuable for retention – employee experience.
A transformed workspace is an ergonomic workspace
Scientists have identified poor posture as a key risk factor for repetitive strain injury (RSI). An ergonomic design helps a body maintain as natural a position as possible, which reduces strain on the arm and shoulder and limits the amount muscles in the forearm and shoulder have to work.
Less strain means less muscle fatigue. More comfort means more focus, whether in-office or remote. And working comfortably for extended periods of time is imperative for a workforce spending more time in front of a screen – and becoming less tolerant of jobs that don't support their wellbeing.
To help, we've outlined three areas of the body that can be a source of poor posture or root cause of muscle fatigue, as well as small but powerful adjustments IT teams can make now in the move toward workspace wellness for all.
Check workspace screen position and height
Today's high-value knowledge workers likely use more than one screen to get work done.
According to the International Data Corporation (IDC), 2020 was the strongest growth year on record for the global PC monitor market. The surge was partly "fueled by a combination of strong demand due to working and learning from home requirements." Dell alone shipped 26.4 million monitors that year."2020 was the strongest growth year on record for PC Monitors," IDC, 2021.
Dual monitors and the expanded digital canvas they offer are a helpful workspace solution. An ergonomically sound setup can ensure they stay that way.
In a transformed workspace:
Screens are an arm's length away (fist closed) to avoid eye strain

Top of the screen is at eye level and top third is in line-of-sight when looking straight ahead to avoid tension in the neck

Main screen is centered directly in front of the end user, and any additional screens remain positioned right next to it to avoid excessive neck movements
External mice and keyboards are necessary for permanent remote spaces that support worker wellbeing. Deploying ergonomic mice and keyboards is a smart choice.
When using a standard mouse, employees tend to bend their hand up at the wrist and press the wrist onto the desk. This position can add pressure to the wrist's carpal tunnel area, which has little natural protection. An ergonomically designed mouse will help straighten the wrist and lift it off the table by putting the hand in a more natural position.
It's also beneficial for IT leaders to survey employees on what they need now and to be informed by demographic differences that employees voluntarily provide. For example, Logi Ergo Lab studies have shown that women generally have a higher muscle activity than men when using a mouse or typing.Logitech Ergo Lab prototype research, 2020.
In a transformed workspace:
An external mouse and keyboard are used to reduce forearm muscle activity compared to using a laptop touchpad

Fingers and hands are in a natural position to help relax the upper body and promote good posture

Wrists are elevated and straight to relieve pressure and align the forearm

The H key or center split (if using a split keyboard) is aligned with the middle of the body to help keep elbows around a 90° angle

Mouse and keyboard are close to the body, multi-OS compatible, and can be paired to several devices at once to reduce any strain from arm reaching
Check workspace seating
Are your employees able to sit at their workspaces in a good posture, with their toes pointed forward and their knees at a 90° angle? If not, they might tuck their legs up under themselves in an effort to get more comfortable. This position can curve the spine and increase strain or do worse over time.
Backs are hurting. A recent Croatian pilot study of telecommunications workers found that the majority suffered musculoskeletal problems related to working from home. They reported stronger pain in the upper back and neck (45 percent) and lower back (39 percent) compared to their previous in-office work."Work From Home and Musculoskeletal Pain in Telecommunications Workers During COVID-19 Pandemic: A Pilot Study,"Azra Huršidić Radulović, Roko Žaja, Milan Milošević, Bojana Radulović, Ivica Luketić, Tajana Božić , 2021.
Considering that the average back pain claim can cost an employer $40,000 to $80,000 USD, any argument that backs don't matter in business should take a seat."The Business Case for Implementing an Ergonomics Program," The Ergonomics Center, NC State University, 2021.
In a transformed workspace:
Desk height is adjusted to ensure elbows are flush with the table

Chair height is adjusted so knees are close to being at a right angle

Feet are fully rested on the floor and thighs are horizontal

The back is well-supported

Elbows are relaxed on armrest, helping shoulders and arms relax
Once ergonomic-friendly practices are adopted, an improved state of employee wellbeing, savings on medical costs and absentee days, and a transformed workspace will all be possible.
If you're ready to reassess your current tech kit, the Logitech for Business lineup offers transformational workspace solutions engineered to meet enterprise IT needs and help every team member feel more productive and engaged. Ergo Series for Business mice and keyboards can deliver on improved posture, reduced muscle strain, and enhanced comfort.
ERGONOMIC ESSENTIALS FOR A TRANSFORMED WORKSPACE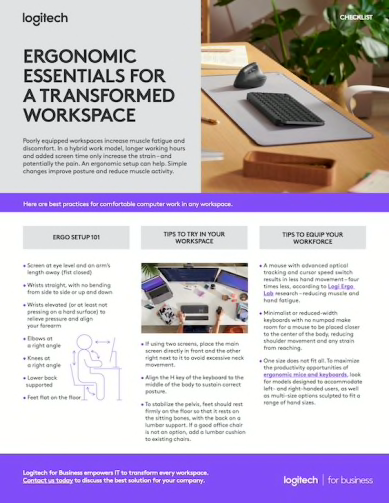 SUBSCRIBE TO OUR BUSINESS NEWSLETTER
THANK YOU FOR CONTACTING US
A product expert will reach out to you shortly.