Pangea temporary hotfixes here
Nelly Cheboi Teaches Tech Skills to Sustainably Solve Poverty
Nelly Cheboi is an ambitious tech leader who wants to bring more Kenyans into the digital economy and develop effective, scalable solutions to poverty. During her junior year of college, she started a school to do just that and now her nonprofit TechLit Africa teaches 4,000 students ages 5 to 14 basic computer skills. Nelly joined Logitech MX for the #WomenWhoMaster series to talk about how she is giving back to her community in rural Kenya by providing access to computers and teaching people digital skills.
Q: What was your experience growing up and how did that shape who you are today?
I grew up in Mogotio, a small village four hours from Nairobi, Kenya. I grew up in poverty — going to school barefoot and going to bed hungry. 
Schools in Kenya are very expensive, especially high schools. I watched my mom as a single parent work hard to pay for my older sisters' education. Our neighbors would say, "Why do you work so hard educating your girls? These girls will be married off, you don't have to worry about educating them." But she wanted to do it. I watched her try all these businesses and fail but still have the power to get up the next day and try again. I was just overwhelmed with admiration for this phenomenal woman. 

So that really became my motivation in life. I wanted my mom to retire and I wanted to build sustainable solutions that eradicate the pain that comes with poverty.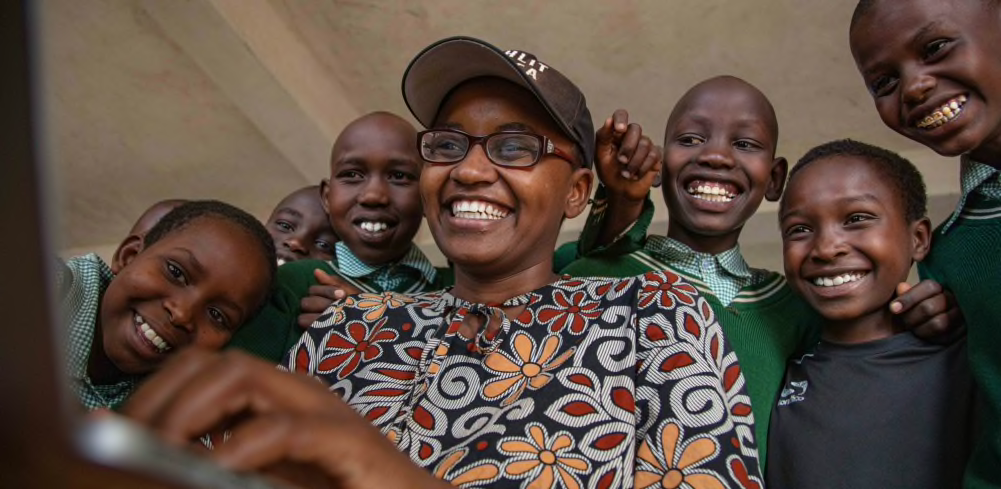 "I wanted to rewrite what it looks like to grow up in a village like Mogotio."
Q: You attended college in the U.S. and decided to study computer science. Were you always interested in science?
No. I knew nothing about technology. It wasn't even in my vocabulary. I wanted to be a pilot. It was the idea of flying away from poverty. But my first flight was the one to America and I realized I didn't really want to be a pilot. So I was trying to find another thing I could do. I had always liked chemistry so I started doing that. I was on track for a chemistry major until I picked up a second major, applied mathematics. 
During my junior year of college, I needed to take an introduction to Java course for my math major requirement, and I just fell in love with it immediately. I dropped my chemistry major and switched to a computer science major. I ended up getting my computer science degree in one year!
Q: While you were in college, you were inspired to start a school and give back to your community. What made you want to do something so ambitious at such a young age?
In college, I got a job as a janitor. As an international student, I could work 20 hours a week for minimum wage. I would save all my money for my family. I finally saved enough to move my family out of our dilapidated childhood home and took over supporting my family so my mom could finally catch a break. I wanted to keep supporting my family but I realized if I kept sending money home every month, then I'd never really be able to give back to my community. So I decided to build a school. That's how Zawadi was started.
A school is sustainable. Parents pay about $10 a month for their kids to go to this school and that money is enough to pay for teachers and other necessities. Plus at first, all the computers were ones I collected while working in America. After I graduated college I worked at a tech company. I noticed how many computers go to waste in those companies – every three years the computers get discarded because they become too slow for tech workers. Some of them get recycled, but not many. So I started collecting those computers and bringing them over to the school.

Those computers were the starting point of using the school to introduce new ideas to the community. The school provides that chance to experiment and help others learn new things.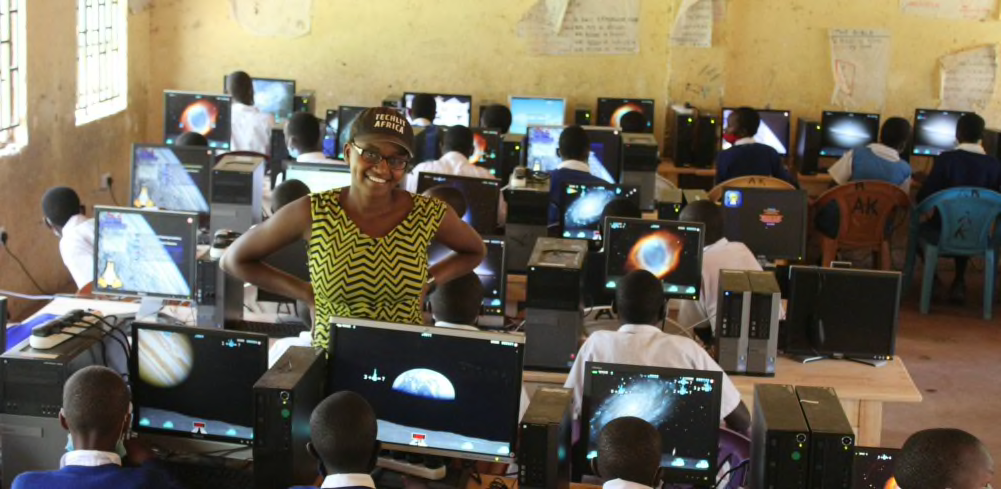 Q: How did you make changes to expand the school to more equally serve girls?
Kids were coming to the school during their free time to learn basic skills, like how to use a computer or a mouse. But after a while, we noticed that most of the students coming back were boys. Girls were staying at home to help with chores. So we realized that to ensure equal access, we needed to go to existing schools. That effort became my nonprofit TechLit Africa, which partners with schools to provide a curriculum focused on self-efficacy, troubleshooting and internet skills. We teach skills such as coding, graphic design, audio and video production — and it is all project-based. Teachers and specialists approach the curriculum from a career lens so a student learns to use a computer and other technology the way they would as a professional. We reach 4,000 students in 10 schools today. Our next milestone is to work with 100 schools all over the country.
Q: Why is it so important for the girls, and all the students you work with, to build digital skills?
In Kenya, everyone is an entrepreneur but they have very, very small businesses. Not many of them grow from a small business to a medium-sized business that can employ people.
"When I discovered computers and saw how the tech world works, I realized that instead of fixing all of Kenya's systems, which would be really expensive, we can tap into one existing system — the digital economy."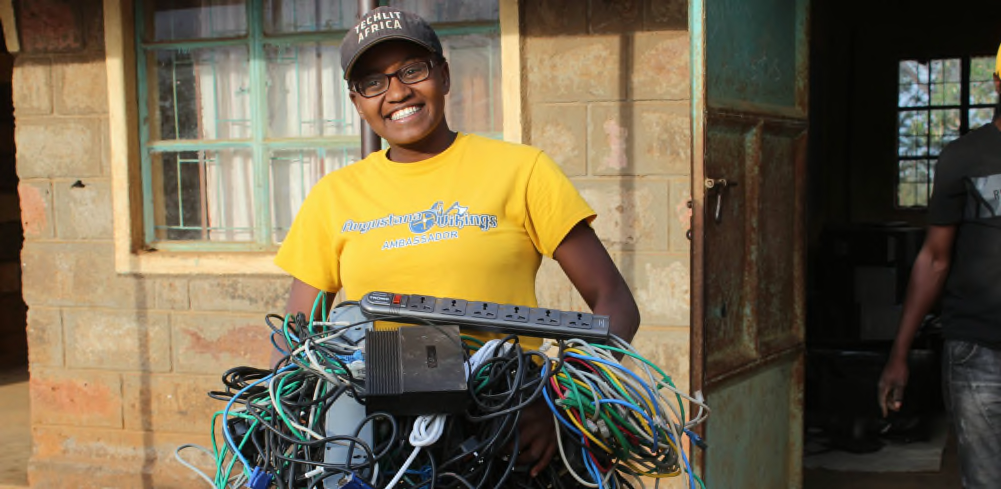 Q: In what ways are you helping more women make progress in STEM and shaping the narrative for the future?
One of the fascinating things we see in Kenya is that because people don't have a history in computers, all the bias is gone. In TechLit Africa there is a girl who is 10 years old and she loves coding. That's all she does. There is also a boy who likes to use word documents to format letters, which we typically think is secretarial work — he loves that. There's no bias. These kids, they're able to come in with a clean slate, find what applications they like and express themselves in that. That is one of the powerful things I see working in my work. We have eliminated all the biases.
"I feel so honored to be able to continue to introduce tech skills to more kids, reaching them before the world tells them who they need to be or what they need to like."
Connect with Nelly on Twitter at @nelly_cheboi, on Instagram at @nellycheboi or on LinkedIn. To stay up to date on TechLit Africa, connect on Twitter at @techlitafrica, on Instagram at @techlitafrica or on LinkedIn. You can also directly support TechLit Africa through financial or IT donations.
Women Who Master puts a spotlight on women who have made outstanding contributions to STEM fields. The goal of the series is to celebrate those contributions, inspire future leaders, and help close the gender gap in technology.
Photo credit: TechLit Africa

#WOMEN­WHOMASTER
MEET THE MASTERS AT THE FOREFRONT OF STEM
Women Who Master
Logitech MX is committed to spotlighting and supporting impactful initiatives and individuals that are disrupting the industry worldwide, to inspire girls and women to pursue a career or continue thriving in STEM.
With #WomenWhoMaster, our mission is to ignite an industry-wide movement that addresses the gender gap and unequal access to opportunities in tech and IT, once and for all.