Pangea temporary hotfixes here
Advanced Work-From-Home Ergonomics
by Olivier Girard, Ergonomist and Posture Therapist, Member of Logitech Ergo Lab Scientific Advisory Board
Recreate a proper work environment as much as you can – with an external screen, and an external mouse and keyboard. Working for long periods of time in an awkward position and with the wrong equipment can lead to fatigue, discomfort and even pain.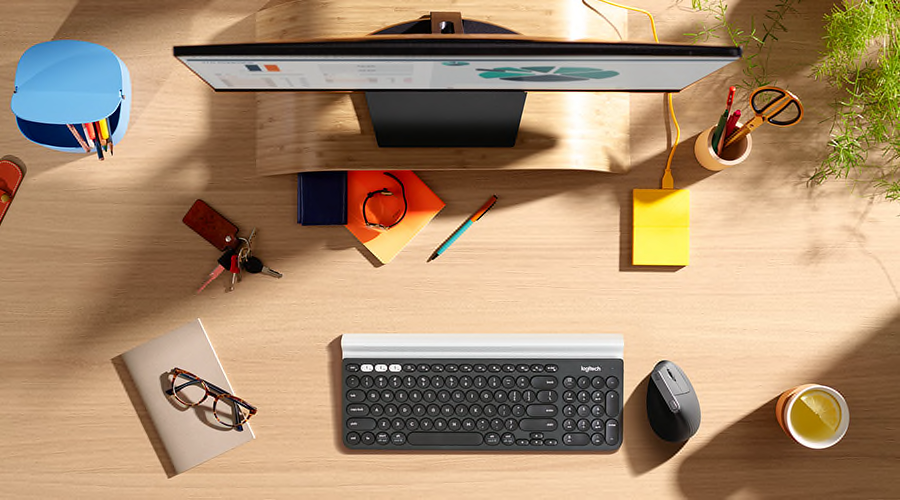 GET YOUR POSTURE RIGHT
Your overall posture is the most important aspect of good ergonomics. When you sit, your pelvis must be stabilized to protect your spine, lower back, and neck. Do your best not to slouch: sit with your pelvis back all the way back in your chair and let your shoulder blades be slightly off from the backrest. Your neck, shoulders, and arm muscles should do as little as possible – so make sure you aren't reaching for things or twisting your neck to look at something throughout the day.
NO ERGO CHAIR? NO PROBLEM
To stabilize your pelvis, your feet should rest firmly on the floor so that you can sit on your sitting bones, with your belt on a lumbar support. If you do not have a good office chair, you can buy a lumbar cushion.
MAKE SOME ELBOW ROOM
Keep your elbows flush with the table. If you can't adjust your table height, take a higher chair and use some sort of foot rest (books or a paper ream can do the job).
MONITOR THE SITUATION
Ideally, invest in an external monitor. The top of the screen should be 10° below your eyes, at a comfortable viewing distance (i.e. you should not need to move your head or upper body forward to read comfortably on the screen). If you are using 2 screens, ensure your main screen is placed directly in front of you while the second stays right next to it to avoid excessive neck movements.
KEEP YOUR KEYBOARD AND MOUSE CLOSE
If you're working on a laptop, always use an external keyboard and mouse to avoid arm, wrist or shoulder pain. Using ergonomic products designed with a human-centered approach can improve posture, increase comfort, lower muscle strain. 
To make sure that your neck, shoulders and arms muscles stay relaxed, bring the keyboard and mouse under your fingertips when your elbows are alongside your body. To do so, keep the keyboard close to the front edge of the table.
LIFT YOUR LAPTOP
If you can have an external second screen, do so; if not, place your laptop on a few books so that you don't need to crane your neck.
TAKE YOUR POSITION
Position your external keyboard with the center of the space bar aligned with the center of your body and the center of your screen. Keep your mouse as close to your keyboard as possible. And position any papers you need between your keyboard and your screen. The key is to not have your head and neck moving left and right throughout the day.